What is nougat? Cooking recipe, composition, calorie nougat
Among the abundance of delicious oriental delicacies, many people fell in love with nougat. It is used as a filling for candy, a layer for cakes and as an independent dessert. This nougat is made from natural ingredients with the addition of a large amount of nuts. Cooking this delicacy is easy and at home. But first you need to understand what nougat is, what ingredients are included and what is the calorie content of the dessert. All this will be described in detail in our article.
What is nougat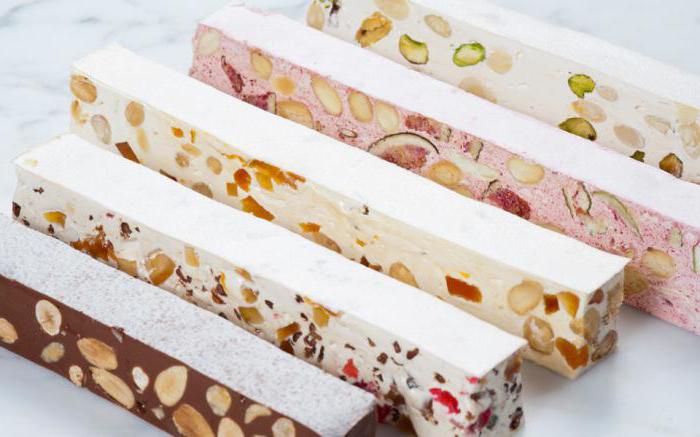 The name of the mass, which came to taste of many sweet teeth, comes from the Latin word nux, which means walnut. And indeed, this ingredient is added to the composition of the sweet delicacy in large quantities. What is nougat? What ingredients are used in the preparation of dessert?
First of all, nougat is a confectionery product that is made from egg whites, sugar or honey and nuts.Traditionally, this delicacy uses hazelnuts, almonds, pistachios, cashews, walnuts, but not peanuts. The consistency of nougat can be completely different: from light and airy to cool and viscous. In addition to nuts, chocolate, citrus peel, candied fruits, etc. are added to taste if desired.
Southern Europe is considered to be the birthplace of nougat, where it has not lost its popularity since the 15th century. Most likely, the delicacy was brought to European countries from the Middle East, in particular from Persia. Today nougat is one of the attributes of the Christmas holidays.
Nutritional value and calorie
Nougat is characterized by a high content of sugar, which makes this product popular among people involved in sports and physical labor. No less than others love this delicacy and children, for whom it, in view of the high content of nuts, stimulating brain activity, can be especially useful. The average caloric value of nougat is about 400 kcal. This value may vary depending on the number of certain ingredients in the composition.
The nutritional value of the product is quite high. The amount of proteins is 7.1 g, fat 10.6 g, carbohydrate 72.2 gTreats can be considered partly useful. It contains a fairly large amount of nuts, honey and dried fruits. At the same time, the high sugar content makes this product harmful to people with diabetes. In any case, this sweet oriental delicacy should be consumed in limited quantities.
Nuts with candied fruit, hazelnuts and almonds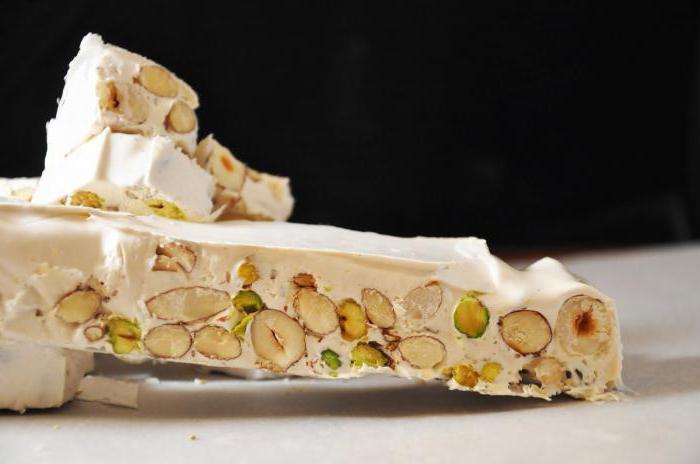 Cooking Eastern sweetness at home will be easy if you follow a certain procedure. The nougat recipe involves following the step-by-step instructions:
In a skillet with a thick bottom, prepare sugar syrup from a glass of water and 800 g of sugar. Cook it on medium heat for about 3 minutes.
Without removing the saucepan with syrup from the stove, add 200 g of honey to it. Continue cooking for 5 minutes.
Protein eggs (3 pcs.) Beat with a mixer at high speed. In a strong protein foam in a thin stream pour sugar-honey syrup.
In a dry frying pan fry peeled hazelnuts, almonds and almond petals. The total number of nuts used is 240 g.
In the protein mass enter cooled hazelnuts, almonds and petals, as well as prepared candied fruits (120 g).Mix all ingredients thoroughly.
Cover the baking sheet with foil or parchment so that not only the bottom is closed, but also the sides.
Put in the prepared form the protein mass, smooth and send to the fridge for 2 days, so that the nougat is frozen. Cut the delicacy into small squares or rectangles and serve.
Chocolate nougat
This recipe will appeal to those people who, for several reasons, do not eat eggs. The composition of such a delicacy does not include animal products, which means that it can be prepared even for vegetarians.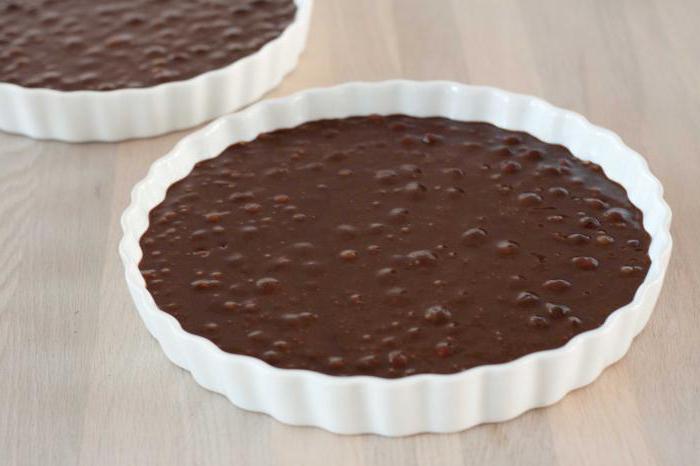 So, many have already tried and know what nougat is. At the same time, the oriental delicacy, prepared according to the following recipe, resembles a traditional dessert only according to its consistency. His taste is richer and more refined. Chocolate nougat is prepared in the following sequence:
A thick sugar syrup is prepared from 50 g of sugar.
Almonds (100 g) are peeled, crushed into crumb and fried in a pan. To clean the nuts, they need to pour boiling water for 10 minutes. Then change the hot water and leave the almonds in a bowl until it cools completely.After that, it can be easily cleaned with your hands, with just one touch of your fingers on the nut. Chop the almonds in a blender or in a meat grinder, and then fry in a dry frying pan until golden brown.
Melt chocolate (100 g) in a water bath.
Combine all the ingredients together, mix, add a handful of almond petals.
Put the chocolate mass in the form, flatten and send in the refrigerator for 2 hours.
White chocolate nougat
This dessert has a rich and interesting taste. It is not too difficult to prepare, but it will be necessary to prepare a thermometer to measure the temperature of the syrup.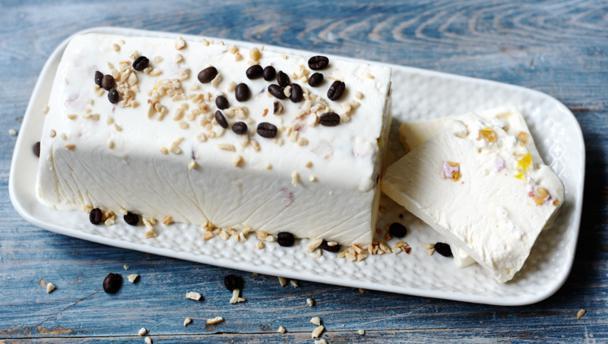 The recipe for nougat is as follows:
In a skillet with a thick bottom pour 2/3 cup of sugar syrup and 1/3 cup of water. Pour sugar (2 tablespoons). The mass is mixed, brought to a boil and cooked to a syrup temperature of 132 ° C (check with a thermometer or a probe).
White chocolate (50 g) is melted on the water bath.
Proteins (2 pcs.) Are whipped with a pinch of salt.
Hot syrup is gradually poured into the protein mass, without stopping to beat with a mixer.
Melted chocolate and almonds are added. The mass is thoroughly kneaded and transferred into a greased form.
The baking sheet is covered with foil and left on the table for the night. In the morning, nougat can be cut into pieces.
Cocoa nougat in chocolate glaze
Delicious dessert is obtained according to the following recipe. By the way, its caloric content can be significantly reduced by replacing butter with coconut and cream with milk of vegetable origin.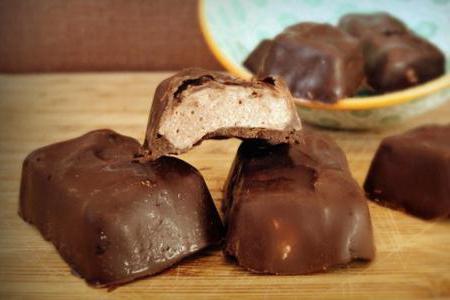 Chocolate-coated cocoa nougat is made according to the following recipe:
Chocolate with a cocoa content of no less than 80% (100 g) is melted in a water bath, combined with butter (50 g) and poured into a prepared form measuring 10x20 cm. The baking sheet is sent to the refrigerator or freezer.
Cream fat content of 20% (450 ml) is brought to a boil. Without removing the saucepan from the stove, add peanut butter (8 tablespoons) and butter (1 tablespoon), the same amount of cocoa powder and sugar. With the help of a mixer, the mass is brought to a uniform consistency.
The stewpan is removed from the heat.
The whipped mass should cool completely, after which it pours onto a baking sheet on top of the chocolate. The form is sent to the refrigerator until the nougat is completely cured.
Chocolate glaze is prepared from 100 g of chocolate and 50 g of butter and poured on top of nougat.
After 2 hours, the dessert is cut into portions.
Peanuts nougat
Nuts are a must-have ingredient in this oriental delicacy. Almonds, hazelnuts or cashews are traditionally used. In our recipe, peanuts are added to the sweet and viscous mass.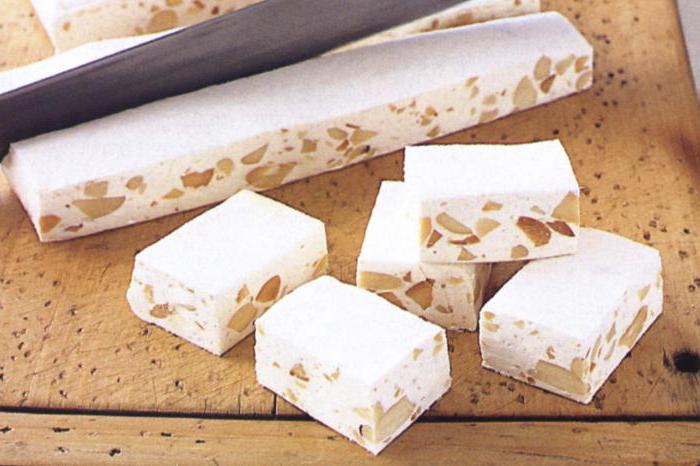 Nougat with nuts is prepared in the following sequence:
From water (125 ml), sugar (400 g) and honey (120 g) thick sugar syrup is cooked before sampling for a hard ball.
Squirrels are whipped into foam. At the end add a teaspoon of lemon juice.
Without stopping the process of beating, the syrup is knocked out into proteins.
Roasted peanuts are added (1-2 tbsp.). Thick and viscous mass is mixed and laid out on a parchment-laid baking sheet with a layer of 2 cm thick.
Nougat should cool at room temperature for 6 hours, after which the form must be rearranged in the refrigerator until the dessert is completely cured.
Related news
What is nougat Cooking recipe, composition, calorie nougat image, picture, imagery