Tajik plov: recipes and cooking features
The recipe of the Tajik pilaf I want to know to all culinary specialists, because this unique Asian dish has already won the hearts of many people. It is distinguished by the use of a large amount of spices and a special variety of rice. Initially, this dish was prepared exclusively on the fire, but in modern conditions it can be done well in the ordinary kitchen.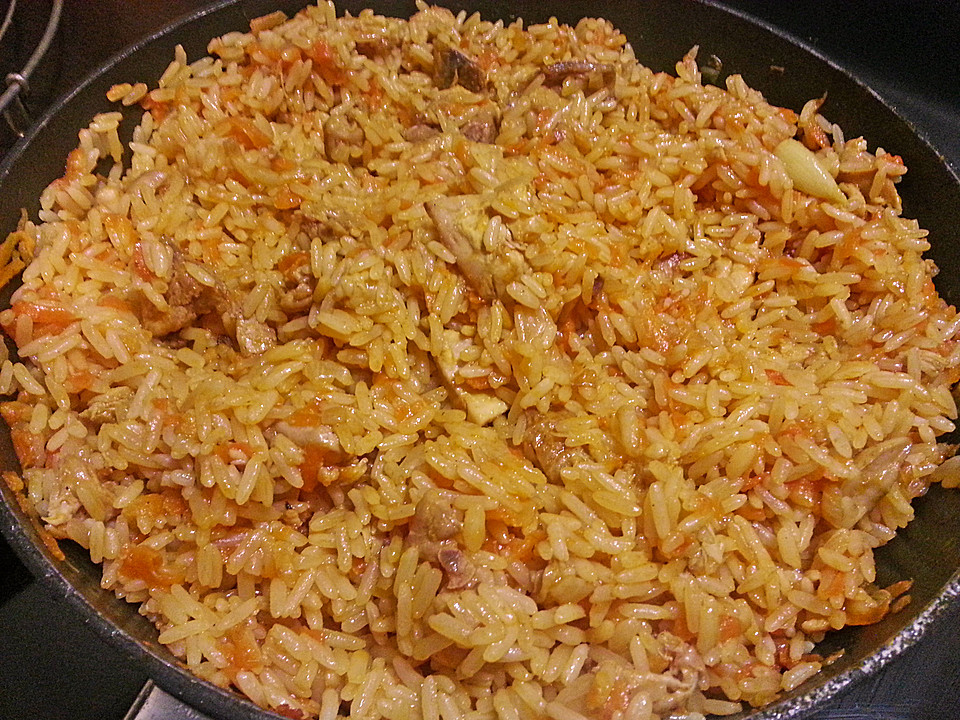 Tajik pilaf
The recipe of the Tajik pilaf received its well-deserved popularity due to the fact that in finished form the dish can surprise and surprise everyone who tries it. Delicious rice cooked on the basis of beef (or other type of meat) and with the addition of legumes acquires new unique flavor characteristics, and additional spices give it more spice.
Recipe
Step-by-step recipe of Tajik pilaf in a cauldron, as a rule, is interested in housewives who do not know what is best served for the dinner or festive table. The main ingredients in this dish are rice and vegetables.It would seem that from these components you can easily cook dinner without step-by-step instructions, but the recipe of a real Tajik pilaf contains several secrets that you should learn to get a delicious dish of Oriental cuisine in the end. Below are step-by-step instructions for cooking rice with meat and vegetables, from which you can easily choose the best option for yourself.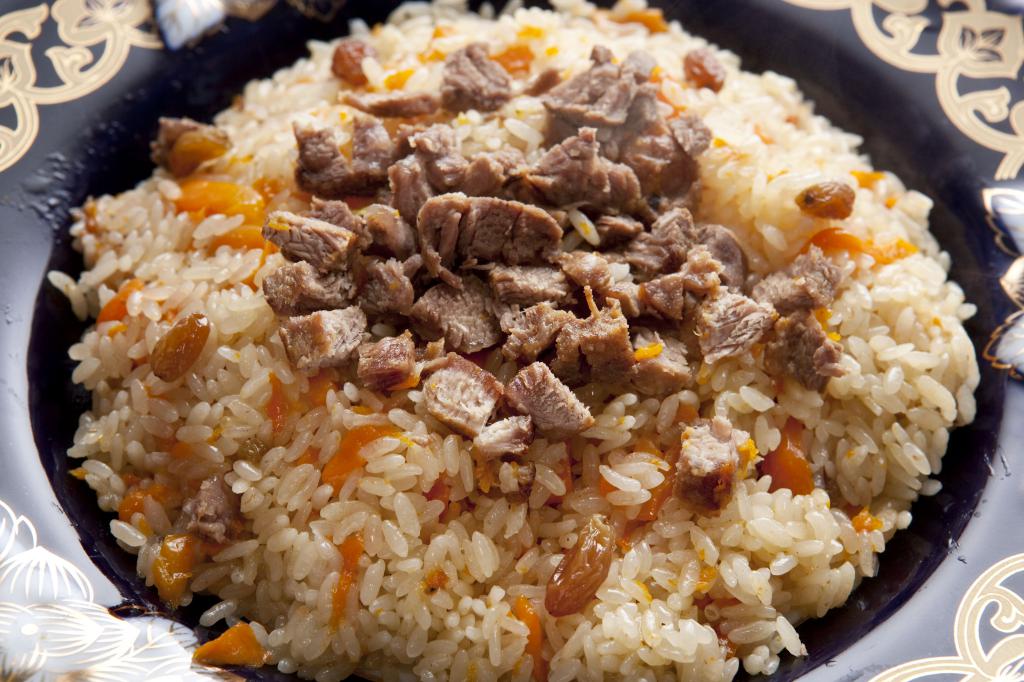 Simple recipe
The classic recipe for Tajik pilaf is very simple. It will require to take:
500 grams of beef;
150 grams of carrots and onions;
100 grams of vegetable oil;
2 grams of spirits, barberry and salt;
glass of water;
40 grams of chickpea;
350 grams of rice;
greenery;
sunflower oil.
Step-by-step recipe of Tajik pilaf in a cauldron will be clear to every cook. To prepare a dish you do not need to have special skills, the main thing is to stock up on all the necessary ingredients. Traditional plov is made in the following sequence:
Approximately 6 hours before the start of cooking, soak the chickpeas, and an hour later - put rice in warm water.
Rinse the meat and blot with a paper towel, then cut into small pieces.
Peel carrots and onions, rinse thoroughly and chop (onions into rings, carrots into strips).
Heat the cauldron, pour the sunflower oil and heat it until the smoke appears.
Put the meat in a cauldron, fry until golden brown, then add the vegetables.
As soon as the carrots are at the stage of half-cooking, pour cold water and bring to a boil.
Add chickpeas to meat and vegetables without water.
Rinse the rice and put it there, then add the remaining ingredients and mix thoroughly.
Add heat and simmer until rice is fully cooked.
When the croup absorbs the liquid, the cauldron should be covered with a lid and the contents should be exhausted for 20 minutes.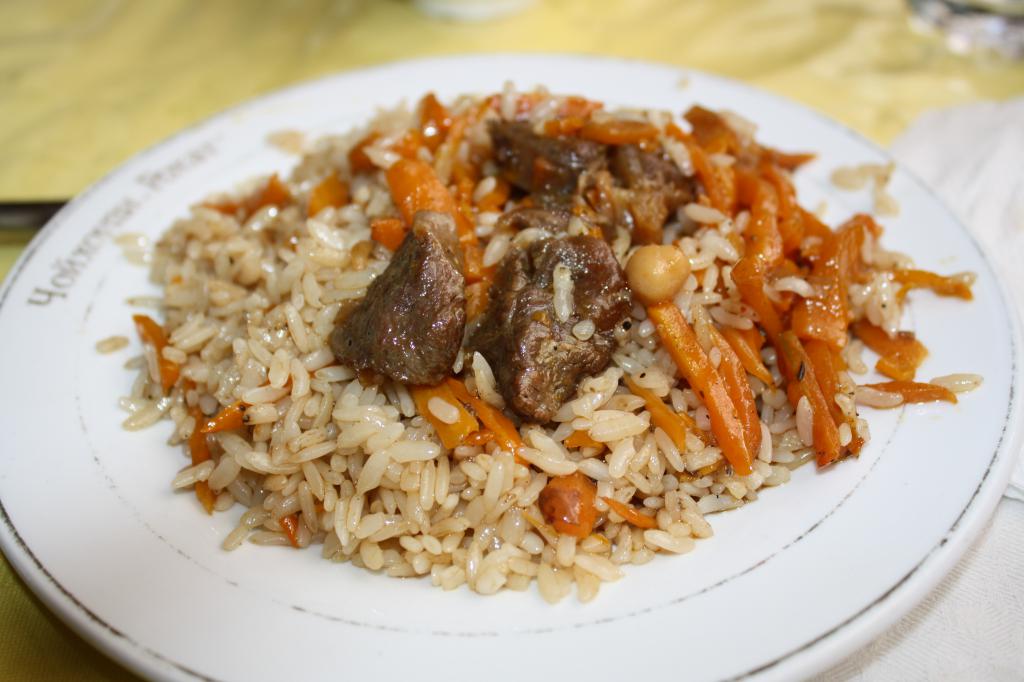 Lamb pilaf
The legendary dish with meat is suitable for both the usual and the festive table. For pilaf you will need:
50 grams of chickpea (optional);
700 grams of lamb;
500 grams of rice;
700 grams of carrots;
300 grams of onions;
20 grams of salt;
100 grams of garlic;
5 grams of spirits.
Cooking does not take much time, since it consists of a few simple steps:
Peel, wash and chop vegetables.
Pour over rice for half an hour.
Rinse and cut the lamb.
Heat the pan with butter, add onions and meat.
After 5 minutes, pour the carrots and pour out the water, then add salt and garlic.
Drain the water from the rice and place it in a frying pan.
Stew for 15 minutes.
If necessary, add more spices.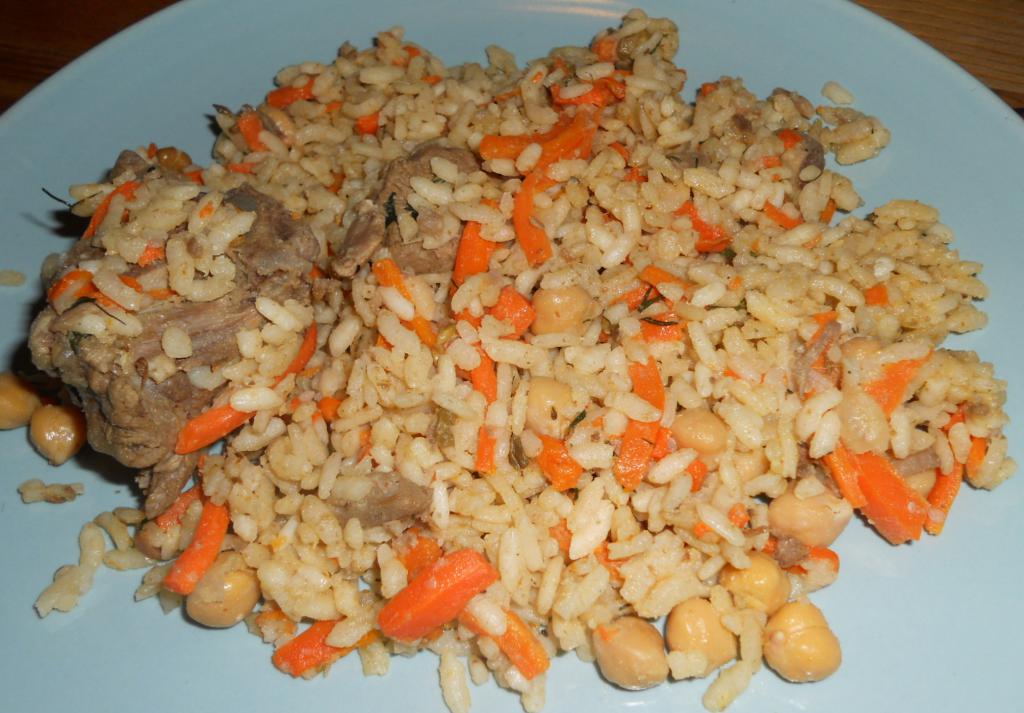 "Dushanbe"
A good recipe for Tajik pilaf is very similar to the traditional one. The main ingredients in this case are:
400 grams of rice;
600 g of beef;
glass of water;
250 g onions;
500 g carrots;
150 grams of fat;
5 g of spirits and barberries;
50 g chickpeas;
15 g of salt;
25 g parsley.
Just as in the classic recipe, chickpeas need to soak in advance. At the beginning of cooking it is required to leave the rice in water for a couple of hours, while at this time wash the meat, remove the veinlets and chop it. Next, wash and peel the vegetables, cut them into rings and strips. The next step is to put the fat in the cauldron and warm up for 10 minutes. Then the meat is fried there, then vegetables and cold water are added and all this is brought to a boil. After chickpea and rice are added to the cauldron. All contents must be thoroughly mixed and quenched for about half an hour.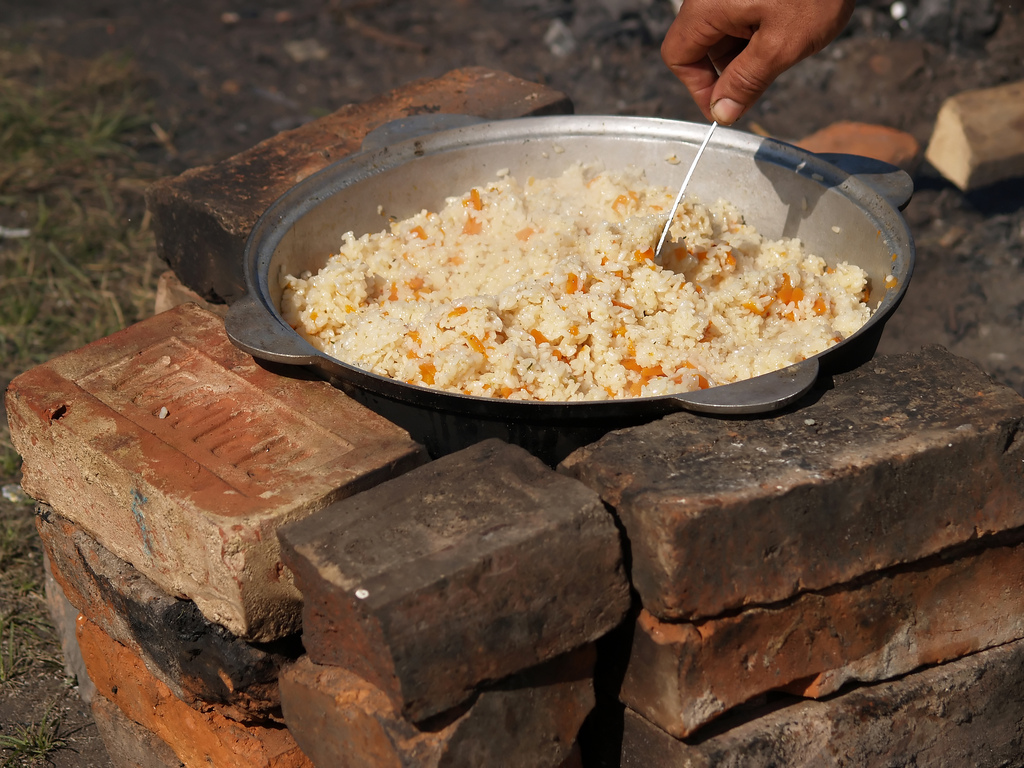 Recipe with grape leaves
A unique dish will delight everyone who tries it, with its memorable taste and aroma. To cook rice you should take such products:
grape leaves - 200 grams;
rice - 600 grams;
garlic - 60 grams;
meat - 600 grams;
carrots - 400 grams;
salt - 20 grams;
zira - 10 grams;
coriander - 5 grams;
pepper - 10 grams;
onions - 300 grams;
sunflower oil.
The recipe for making Tajik pilaf is very simple:
Rinse the rice and add water for 20 minutes.
Grind vegetables.
Rinse the meat and make mince from it.
Mix onion with salt and send to blender.
Vine leaves pour boiling water, put on them a spoonful of minced meat and roll sausage.
Stuff the leaves in the fridge for half an hour.
In the cauldron pour the sunflower oil and warm until the smoke.
Pour the vegetables into a hot container and fry for 10 minutes.
Put in a cauldron sheets of grapes with meat.
Drain the water from the rice through a colander.
To the grape leaves add coriander, rice and pepper.
Cover the cauldron with a lid and cook the pilaf on maximum heat for 25 minutes, then reduce the heat and continue to simmer the dish for the same amount.
In the end, the rice should turn out crumbly, a little soft and dry.
Lunch with chicken
An interesting and simple recipe for Tajik pilaf with chicken is worthy of attention on a par with previous ones. Cooking is best in a cauldron.In addition, before cooking you want to separate the chicken and boil the broth from the bones.
For pilaf you will need the following components:
onions - a pair of pieces;
long grain rice - 2.5 cups;
chicken meat with bones - 1.5 kilograms;
dried apricots - 12 berries;
carrots - two things;
zira - about half a teaspoon;
water - 1.5 liters;
coriander - a couple of pinches;
pomegranate grains - three tablespoons;
vegetable oil - 10 tablespoons;
garlic - 10 cloves;
boiled hard boiled egg;
purple onions - a couple of things;
spices to taste.
Preparing a dish like this:
Cut the meat into small pieces.
Pour the bones with water, boil, after half an hour add black pepper and bay leaf and cook for another 30 minutes.
Already cooked broth strain (for pilaf only 1.1 liters is required).
Roast the chicken pieces until the whole juice is out of them.
Add dried apricots, cumin, coriander, chopped garlic and pour half the broth to the meat, then salt and boil.
Rinse the rice, put it to the meat and pour the remaining broth there.
Boil the pilaf for another 10 minutes, then turn off the heat and let it brew for 7 minutes.
Before serving the dish is recommended to decorate the remaining ingredients in a crushed form.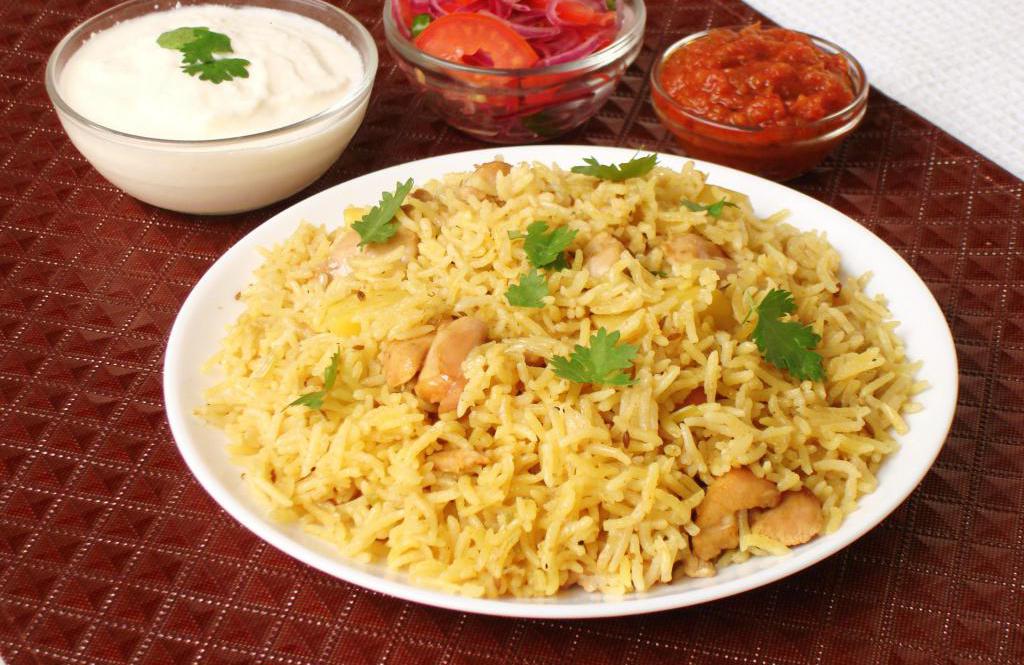 At the same time, this salad can be served with vegetable salad.They will be perfectly combined with each other, as well as with white table wine.
Related news
Tajik plov: recipes and cooking features image, picture, imagery