Plum jelly - cooking recipe, features and reviews
Not only compotes, jams or jams are prepared from the plums, but also jelly. This is a delicious aromatic dessert, which is loved by both children and adults. There are a lot of plums for the winter. Consider some interesting recipes.
The classic recipe for jelly from plums for the winter
Sweet and sour dessert is prepared quickly and easily, and if you add a variety of spices, fruits and berries, the taste is unforgettable. To begin, consider how to prepare the recipe for plum jelly for the winter.
For the preparation of this dessert will need:
Water - 2-3 tbsp.

Plums - 1 kg.

Sugar - 1 kg.

Pectin - 250 g
If you have all the ingredients, you can start cooking plum jelly for the winter.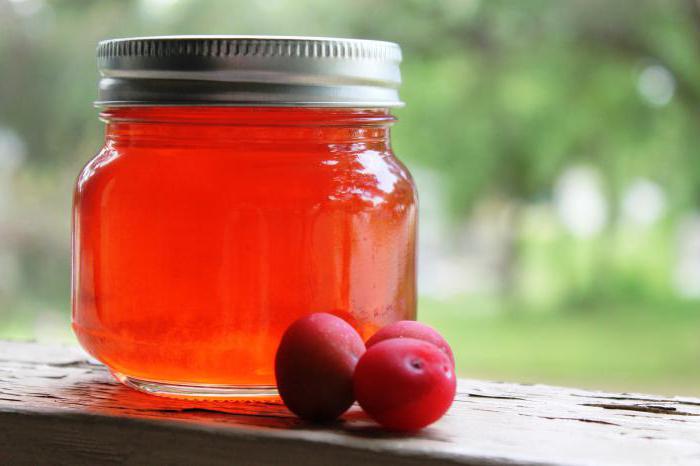 First you need to put the container for sterilization, and in the meantime to do fruit. Plums are cut into four parts, the bones are removed. Peeled fruits are poured into a saucepan, filled with water, put on a slow fire for boiling. Plums must be constantly stirred so that they do not burn to the bottom of the pan.
When the fruit starts boiling, sugar is added to it, then pectin.Plums should boil for a total of fifteen minutes. Hot dessert is poured into sterile jars, tightly rolled. Classic jelly of plum without stones for the winter is ready.
From plums and currants
There is another recipe for jelly, which includes not only plums, but also currants. This dessert is ideal for the holiday table, as it has a rich bright color and unforgettable taste.
To prepare jelly from plums and currants need ingredients:
plum - 0.5 kg;

currants - 0.5 kg;

water - 2-3 st;

pectin - 250 g;

Mint - 3-4 leaves;

sugar - 1 kg.
Cooking process
Plums should be sorted, washed, cleaned and cut into 4 pieces. Separate currants from the twigs, rinse thoroughly under running water. Mint is finely chopped with a knife.

Fruits and berries must be folded in one container and covered with sugar to make juice. After that, put fruits and berries on the fire, and cook on a slow 15 minutes. Then remove the container with plums and currants from the heat to cool.

After four hours again, the fruit with berries should be put on the fire, add water according to the recipe,

cook for 10 minutes. After the time expires, remove from the heat and cool.

When fruits with berries become warm, they must be set on fire again and mixed thoroughly. After boiling mass add pectin and mint, boil for 5 minutes, roll the hot mass into sterile jars.
It turns out tasty and tender jelly from plums and currants for the winter.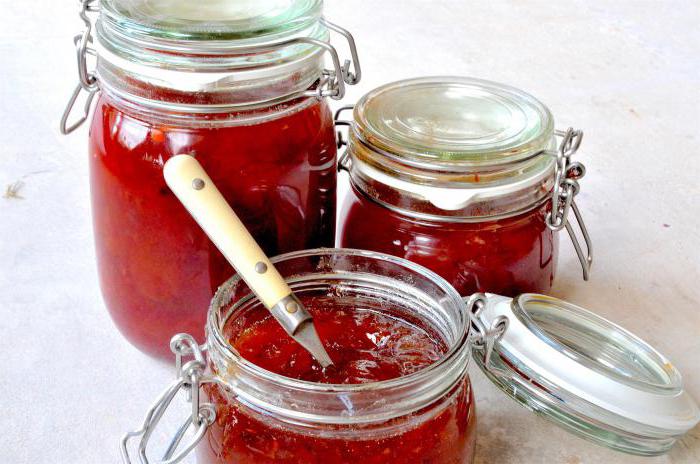 Add spices and gelatin
This recipe for plum jelly is easy to prepare, but additional spices are added to the exquisite taste and aroma. To prepare the jelly will need products:
plums - 1 kg,
water - 2-3 st.,
sugar - 700 g,
gelatin - 1 tbsp. l.,
cardamom - 0.5 tsp,
Mint - 4-5 leaves.
Plums should be cut into 2 or 4 parts, remove the bones from them, put on a deep pan for boiling.
Then pour fruit with sugar and sprinkle with cardamom. Place a baking tray with plums in an oven heated to 180 degrees. Bake them until sugar is dissolved. Remove from oven and let cool slightly. FROMBlend to a mash to a puree state.
In the resulting puree, add water and put on a slow fire. After boiling mass add gelatin, mix thoroughly, put into sterile jars. Lid roll and everything is ready for winter jelly.
Cooking features
Before preparing the dessert, it is necessary to choose the right ingredients, as the quality and taste of the dish depends on the products. To get the jelly of the right consistency, it is best to take plums of hard sweet and sour varieties.
Instead of gelatin, you can add agar-agar, which acts much faster than gelatin, the dessert will turn out more correct consistency.
If you still selected a sweet variety of plums, then you can add juice from one lemon or citric acid.
Jelly is best cooked in a deep bowl with a thick bottom so that during cooking the plums are not burnt, otherwise the taste of the dessert will spoil.
For a variety of flavors, you can add other fruits or berries, but only those in which a lot of pectin. For example, pear, quince, gooseberry, apples. If you want to add raspberries, strawberries, blackberries to the dessert, then you need to put more pectin or gelatin. Otherwise, the jelly will not work the desired consistency.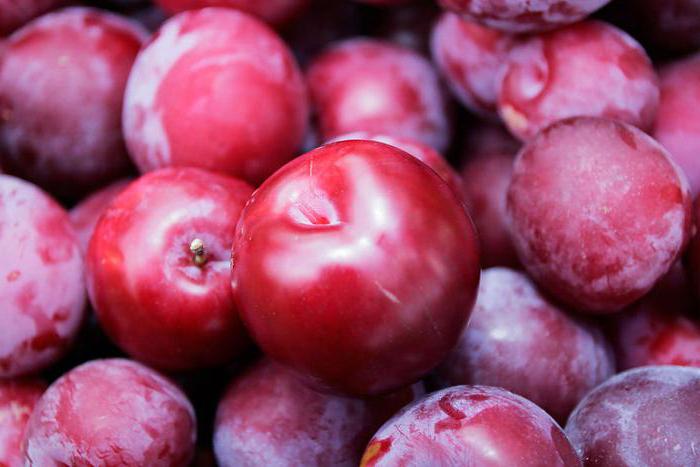 If the plum variety is not very juicy, then more water will be needed: very little juice will come out of the fruit, and the mass can burn.
During cooking, you can add a little wine or brandy to the hot mass, you get a very tasty jelly with a unique taste and aroma. However, this dessert is not advised to give children.
If the plum mass for a long time remains liquid, it is necessary to reduce the heat and continue to boil down, the jelly should be thick. If it still does not help, then you can add a little more pectin. Also, the thickness can be obtained using breadcrumbs.
To make a transparent dessert, it is necessary to use unripe varieties of white plums and boil them until the mass stops foaming.
Reviews
Plum jelly is a common dessert that many sweet tooths love. As a rule, the housewives are satisfied with the above recipes. However, some women are advised to add cloves or cinnamon during cooking. They say that spices give a special taste and aroma.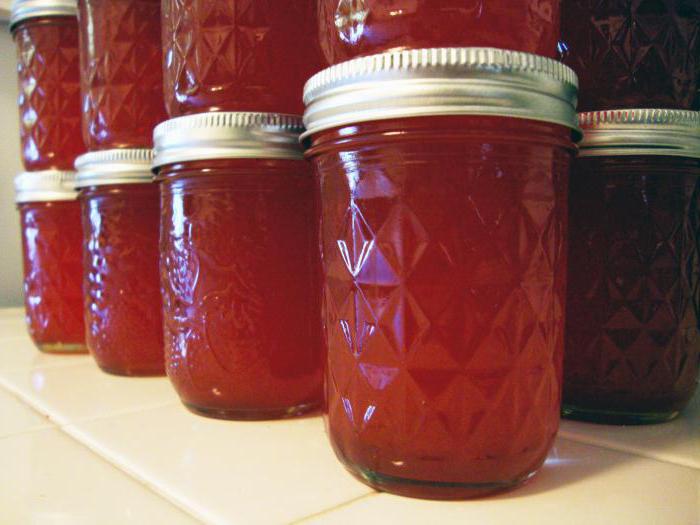 Some housewives write in the reviews that they need less sugar, because the jelly comes out too sweet. However, it all depends on the desires and tastes of consumers.
Almost everyone likes recipes jelly from plums for the winter. After all, it is very tasty, beautiful and suitable for any holiday table.
Recipe Accuracy
As you can see, the jelly of plums is easy to prepare The main thing is to try to adhere to the recipe, then you get a delicious, exquisite dessert that will delight relatives and guests.
Now readers know that, in addition to plums, you can add other fruits (berries), in which there is a lot of pectin. And for a more elegant and extraordinary taste, it is recommended to add various spices: cloves, mint, cardamom, cinnamon, lemon and others.
Do not forget about the correct choice of fruits and berries. Pectin is more in unripe fruits than in ripe ones. Try to choose elastic, slightly unripe fruits and berries.
Related news
Plum jelly - cooking recipe, features and reviews image, picture, imagery