Izmailovsky Park (Moscow): photos and reviews
Izmailovo Park - these are two zones, both loved by the citizens and guests of the capital. The first is an elegant and bright Culture and Recreation Park, which after a recent renovation has turned into a great place for family fun. The second part will be liked by incorrigible romantics, it is practically a real forest with dark thickets, the only thing that distinguishes it is the neat paths, stylized ponds and gazebos in the meadows.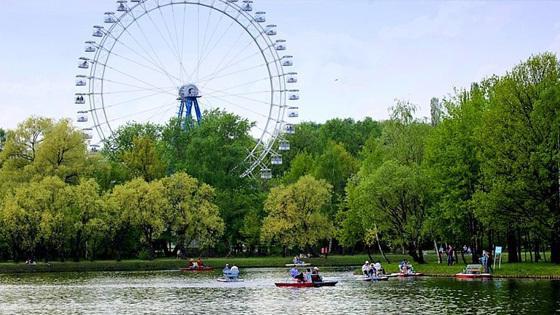 History of the park
It begins in the XVI century, when the possessions of the boyars of the Izmailovo became palace. Since 1656, a model farm has developed here. Magnificent orchards, greenhouses, ponds and dams were laid out. Here were the famous breweries and medovarni, linen yards and a glass factory, which is why Izmailovo Park was already a famous place. The green mass of the territory was already magnificent at that time - these are oaks and birches, lindens and pines. Through the whole territory flows the river Serebryanka, from it even under Peter I a whole network of magnificent ponds was branched off, which today are the main decoration of the park.
In the XVII century there was built a menagerie, which existed for more than 100 years. The royal manor, now Izmaylovsky Park, was not only economic, but also entertaining. There were mass celebrations.
Entertainment center
Over the past century, the territory has changed a lot. Izmailovsky Park had to comply with modern trends and trends in order to maintain popularity. Now there are great places for walks, luxurious alleys with lush flower beds, charming ponds, benches, all this attracts romantic youth. For family holidays there are attractions: autodromes, shooting galleries, carousels and a ferris wheel, where you can pleasantly complete the walk with a survey of the surroundings.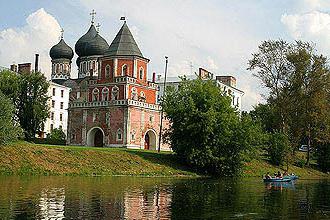 In addition, there are tennis courts, a dance floor and the most favorite place for children and adults - a rope town and a climbing wall. Love to sit quietly behind the intellectual game? Then for you outdoor chess tables. Here all year-round sports equipment rentals are available. In summer, boats and catamarans, which you can ride on the main pond, are extremely popular.In the center of it is the island, where the ancient Intercession Cathedral (XVII century) and Izmailovsky poorhouse remained.
Virtual walk in the park
Surprisingly, not even all residents of the city visited the Izmailovo Park. Moscow is a huge city where city planners have tried to lay an amazing number of parks, squares and green walkways. Therefore, everyone is resting where closer to home. Let's take a virtual walk.
Let's start with the central part. Here is a round pond, near which there is a boat station. Interestingly, for the capital in the park is very reasonable prices. If you decide to walk around the pond, you will go to the square of courage memorial. From it comes a long and very beautiful alley of pyramidal poplars. After it is a musical arbor. Brass bands perform here on weekends. Small playgrounds, trampoline sets, swings and carousels are scattered throughout the park. It is especially interesting to visit Izmailovsky Park in the summer, where there are so many greenery and flowers, and you can ride horses or ponies in the Northern Square. Smooth tracks invite you to rent a bike, skates or roller skates and ride.
Be sure to take a camera with you. Especially beautiful in the fall Izmailovsky Park. Photos of golden alleys will still warm you with memories. Come here to admire the squirrels. They are completely tame here and with great pleasure will take the nuts out of your hands.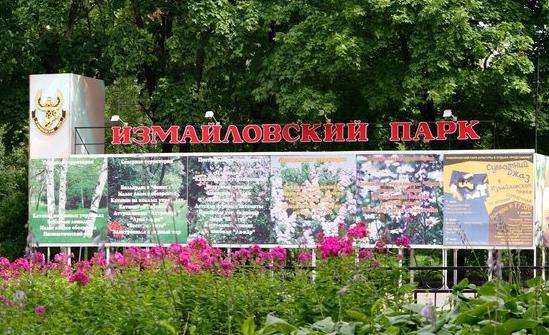 Rope park
This town called "Panda Park" is a favorite attraction of the guests. Here you can feel like a real participant in the adventure, the conqueror of the crossings and new peaks, a proud pirate climbing the masts. All bridges, transitions, stairs and nets are made of wooden elements and strong ropes. Routes are located under the crown of the trees, which gives a special piquancy. The length of the routes is also amazing - about 140 meters. On the ground it is not so much, but when you need to walk at a huge height along a shaky rope bridge, this is more than enough. On average, it takes 30 minutes, but for someone it becomes an insurmountable obstacle.
Here you can not only spend weekends, but also organize real competitions for teenagers, as well as small corporate parties.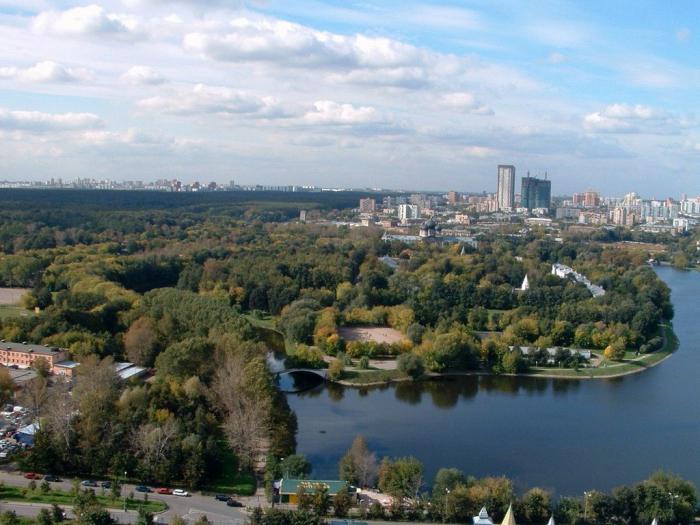 Ferris wheel
If you do not have panic fear of heights, then be sure to ride it with the whole family.This will give great impressions, because before you will open, if not all of Moscow, then an impressive part of it. Wheel height 50 meters. It should be noted that there is one more wheel, a smaller one. Tickets for the big attraction are 200 per adult and 70 per child. On the small wheel, you can ride for 100 rubles.
Yoga and sport
Have you ever played sports in the open air on a green lawn? If not, join local instructors. Every day they come to 8 pm and conduct their classes. At the weekend, the time is postponed to 11 am. If you do not like yoga, then on weekends there is a free hour of fitness on the dance floor. This is a new, fashionable and wonderful course, playing sports in a public place.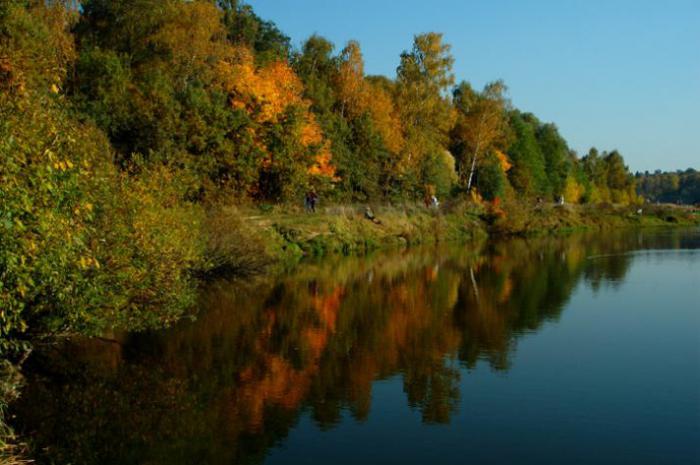 Famous ice rink
There is also a reason to visit Izmailovsky Park in winter. An ice rink with an area of ​​12,000 km is located in the central part of the park. Here is an excellent ice cover, at the services of visitors is always rental equipment. For convenience, there are warm locker rooms where you can drink tea or coffee. The skating rink opens in the winter and runs daily. Opening hours from 14:00 to 22:00 on weekdays, and from 12:00 to 22:00 on weekends.
The entrance fee to the rink is 200 rubles.But you can even ride all day. If you do not have your own skates, then you can take them at the box office, giving 150 rubles per hour. Hurry up and visit Izmailovsky Park. The rink is only open until March 31st.
In winter, the park has another place to relax. This is the "Forest of Miracles." It traditionally opens on New Year's Eve. In addition to the luminous trees, the six-meter beauty of the Christmas tree and fairy-tale characters, awesome entertainment awaits you. This is a tubing ride, biathlon track with excellent laser weapons. There are snow fortresses, where you can arrange real battles, skating rink and much more.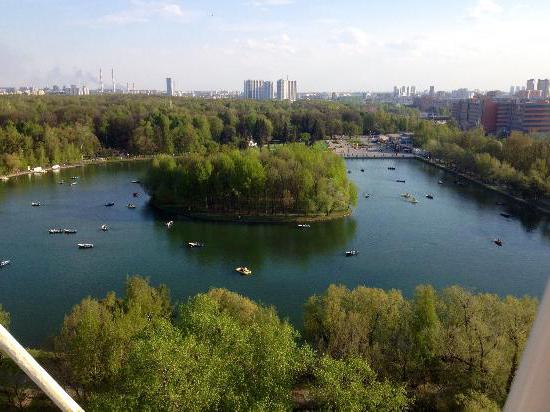 Fishing
Surprisingly, there are plenty of fishermen here too. In the ponds near the river Serebryanka, amateur fishermen manage to catch both quite small and fairly decent fish. For the most part, the reason for gatherings here is not the catch, but the very passion of observing the float. The only severe restriction on the part of the administration is the complete absence of alcohol.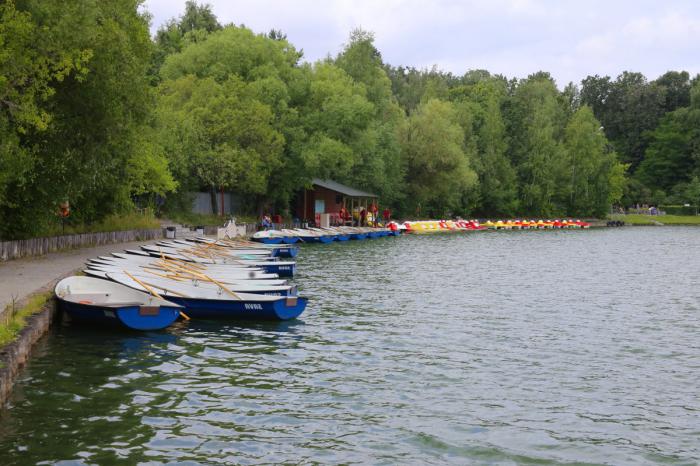 Izmailovo Park: how to get
The easiest way to use the underground transport. Just need to figure out the route. Indeed, in order to visit Izmailovsky Park, the metro is perfectly suited, because there are two stations on the border of the park at once - these are "Partizanskaya" and "Izmaylovskaya".If the metro does not suit you, you can use public transport. Two bus routes go to the bus stop of the same name - No. 7 and No. 131.
For a particularly comfortable trip, you can use personal transport. Then you can park your car in the area of ​​Izmailovsky Prospect and take a walk through the forest part of the park. Since its territory is large, it is better to decide in advance which part you will visit today. To go to the ponds and the beach, orient to Bolshaya Kupavensky Passage (possession 6, building 1). Another option is Narodny Avenue (possession 10, building 1). Here in the parking lot PKiO you can leave the car and go for a walk.
Reviews
Citizens and visitors are united in their responses. They call this park a terrific place for a family holiday, incredibly large, cozy and versatile. Here everyone can find an interesting activity for themselves, just be alone with nature or play sports. It is especially important that Izmailovsky Park conducts a large number of programs for familiarizing young people with sports.
Related news
Izmailovsky Park (Moscow): photos and reviews image, picture, imagery