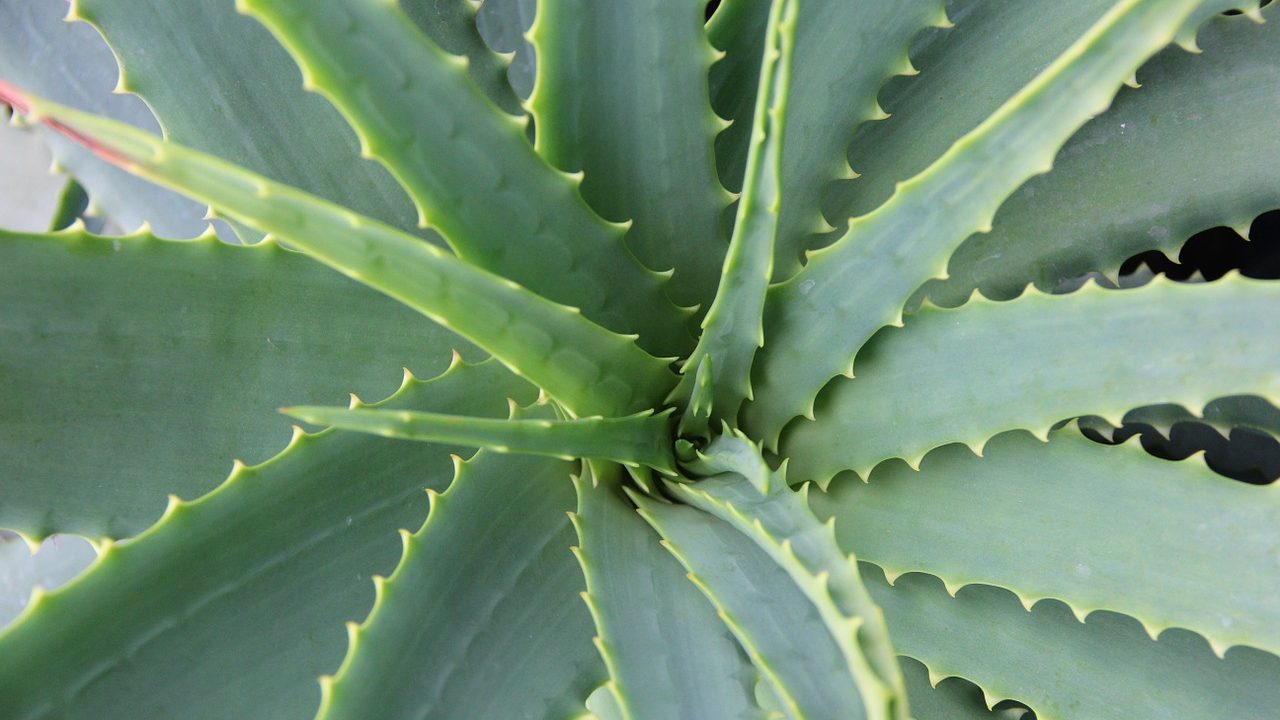 How to keep skin youthful with aloe and remove even deep wrinkles
3 464
Aloe is a wonderful plant. How to use it to get the maximum effect? Are there any contraindications and dangerous consequences?
Why precisely aloe
Aloe has a huge amount of beneficial properties for the face.
This is a natural product that can get rid of small wrinkles, smooth out fading skin, give an even color to the face.
It is incredibly useful for women over 35, as it is a natural aid in the fight against aging.
It's all about aloe. The plant contains many different substances:
allantoin;
salicylic acid;
vitamins;
lignins;
saponins;
enzymes.
In total, the composition has more than 200 different elements, each of which is useful in its own way. For facial skin, aloe juice performs a number of important functions:
Helps to give skin elasticity.
It smoothes small wrinkles, prevents deeper appearance.
Lightens the skin, fights pigmentation.
Removes puffiness.
Regulates the level of moisture in the skin.
It has a relaxing property.
Fights acne.
Heals wounds.
More collagen is produced.

Use juice in masks, tonics, you can even drink it.
In South Korea, in an experiment for women 45+, it was found that aloe juice, taken orally, has a beneficial effect on the skin of the face.
It is best to use fresh aloe juice, it is easy to squeeze it straight from the home plant, but it should be at least 3 years old and have fairly large, thick leaves.
In pharmacies or specialty stores you can find ready-made aloe juice.
Warnings
Aloe - product not harmless, it should be used with caution. With normal skin, absence of diseases and allergies, it can provoke a negative reaction: redness and burning. But there are cases when the use of aloe juice is not recommended at all:
With allergies. Before use, apply a little aloe juice on the elbow bend. If after 2-3 hours there is no redness or other reactions, use is permissible.
With sensitivity to the components contained in the plant.
With deep wounds, cuts, acne, which is accompanied by severe itching, ulcers.
If you want to take aloe inside, this can not be done with:
Pregnancy, menstruation, as it is possible even miscarriage or heavy bleeding.
Increased blood pressure.
Any heart problems.
Blood disorders.
Problems in the work of the stomach and other organs of the digestive system.
Rake
Before using aloe juice, it is advisable to consult with a therapist or dermatologist.
How to apply
In order for the juice to bring a good enough effect, you need to properly collect it. For this, as already mentioned, use the plant age from 3 years.
Before collecting leaves for juice, do not water aloe for several days. Choose the most beautiful, dense, fatty leaves. Best of all are those that grow from the bottom.
They must be washed, mince or chopped. Not bad, before squeezing the juice out for a few days, put the leaves in the fridge, wrapping it in film.
Aloe juice should be stored in the refrigerator for no more than 48 hours, otherwise it will lose its beneficial properties.
To the problem areas you can put cut pieces of aloe for 15-20 minutes.
It is best to drink juice in the morning, half a teaspoon 30 minutes before breakfast.
The course is not recommended for more than 30 days.
Aloe juice has a pronounced laxative effect, so it is best to start the procedure on days when you do not plan anything important.
Time-tested recipes
Universal rejuvenating mask
Take equal amounts of aloe juice, the fattest cream and wheat germ oil. Mix everything up. Apply on face for 10 minutes.
For another recipe for the universal mask, you will need:
Aloe juice

Turmeric

1 tbsp.

Glycerol

2 drops

Rose oil

2 drops
Mix and send in the cold for 50-60 minutes. Then apply on face for 10 minutes.
Universal is also considered a mask of one yolk, 30 g of aloe juice and 30 g of sour cream. Mix everything, apply for 15 minutes, rinse.
Honey Cream Mask
Honey helps to restore elasticity of the skin and décolleté.
Take:
Aloe juice

2 tbsp.

Homemade cheese

1 tbsp.

2 tbsp.
The ingredients are well rubbed, apply on face for 10 minutes.
For another honey mask, prepare:
2 tsp.

Aloe juice

1 tsp

Glycerol

1 tsp

Boiled water

1 tsp

Oat flour

1 tsp
All liquid ingredients are mixed. Add flour. Lubricate the face with a mask and hold for 15 minutes.
Cucumber mask for sensitive skin:
Aloe juice

3 tbsp.

Cucumber juice

3 tbsp.

Yogurt

1 tbsp.
Mix everything, put on face for 15 minutes. Wash off.
An even simpler recipe. Take: 90 g of aloe juice and half a cup of cucumber juice. Mix all, you can add a little mineral water. Apply to face for 15 minutes. Wash off.
Lemon freshness
Lemon and aloe have a very good effect on wrinkled skin.
For dry skin:
Aloe juice

1 tsp

Lemon juice

1 tsp

Oatmeal Flour

1 tsp

2 tsp.
To mix everything. Apply for 15 minutes. Wash off.
For oily skin and acne:
Aloe juice

2 tbsp.

Lemon juice

1 tsp

Egg white
All mix, apply for 10 minutes. Wash off. Smear cream.
You can take 100 grams of aloe juice, 20 grams of lemon juice, add 2 tsp. water. Mix everything well. Apply for 20 minutes. Wash off.
Scarlet Juice from the "crow's feet"
Wrinkles around the eyes disappear if you apply pure aloe juice to them for 10 minutes. Then it should be washed off. The same effect will have ice from aloe juice.

Aloe Toning Lotion
To prepare a refreshing lotion, prepare:
Aloe juice

Chamomile tea

1 tbsp.

Vitamin E

1 tbsp.

Mint (essential oil)

3 droplets
Heat tea with aloe. Then add the rest of the ingredients. Cool and bottle. Can be stored in the refrigerator.
For skin that has many wrinkles:
Aloe juice

0.5 cup

Vitamin E

0.5 tsp

Vitamin C

0.5 tsp

Mineral water
Mix everything, store in the refrigerator for up to 7 days.
Anti-aging lotion
It can be prepared from the following ingredients:
Aloe juice

Vitamin E

1 capsule

Soy lecithin

Olive oil

Beeswax

Almond oil

Ylang Ylang Oil

3 drops
Ingredients (without oils) melt on the fire. Then add oil and mix. Pour into storage container. Keep in the fridge no more than 3 months.
Tips for preserving youthful skin
In order for the skin to remain elastic and wrinkle longer, you should follow simple rules:
Do not abuse tanning beds and tanning.
In the summer and during tanning, always use special sunscreens.
To drink a lot of water. Not less than 1.5 liters per day.
Eat healthy food, more fruits and vegetables.
Use vitamins for the skin, every six months to carry out vitamin complexes for the whole body.
Do not smoke, drink less alcohol.
Using cosmetics that meet the requirements of your skin type, it is especially important to distinguish between day and night cream and eye cream.
Regularly visit a cosmetologist and a dermatologist, especially after 35 years.
Make nutritious natural masks.
Do not abuse the makeup, give the skin a rest at least once a week.
Protect the skin in winter, summer, avoid sudden changes in temperature.
Use only quality products for the face.
Do not lose weight dramatically, especially after 40 years.
Do self-facial massage.
Adhering to these rules and from time to time applying aloe juice, you can permanently preserve the freshness and youthfulness of the skin.

video blogger
I want to talk about one cosmetic product, which is 99% composed of aloe, and which, in my opinion, should be in every girl, because it fits literally for everything. This is a universal gel with aloe from the Korean company Holika Holika. The product includes aloe leaf juice, as well as a nut-bearing lot extract, Asian Centella extract, Babmbuk extract and cucumber extract. There are not very useful ingredients, but they work as preservatives.You can use it as a face cream. It is lightweight, absorbs in a short period of time, leaves a slight stickiness, but it passes quickly. The skin is perfectly moisturized. The foundation lays down well and does not roll down.
The second method of application (the most favorite of me) is a rescue tool for burns, cuts, wounds. The gel cools the skin, relieves itching, heals. Also this one can be used as a hair mask. It gives a light moisturizing and shine. And the last way to use the gel is body lotion. Light aroma, fast absorption, excellent hydration. What you need for the summer.
Related news
How to keep skin youthful with aloe and remove even deep wrinkles image, picture