Posted Svetlana Grishkina
Date: June 15, 2016 at 2:01 pm
Festive mood for the whole year: cooking tangerine jam

Many people associate the stunning aroma and taste of tangerines with the New Year, frosty evenings of winter holidays, fairy tales and good mood. How do you sometimes want to return these memories. But what if you turn this fruit into golden amber jam? Then the spirit of childhood and celebration will always be at your fingertips.
Can I use tangerines for making jam
The main value of tangerines, as well as of all citrus fruits, is a high content of vitamin C. They differ from lemons and oranges by a less pronounced sourness and a somewhat loose structure of the peel, which greatly facilitates the cleaning of the fruit. In addition, people watching the figure, will note the low calorie content of the product.
Not only the pulp is valuable for jam: almost always tangerines are cooked with the peel.Therefore, do not forget to thoroughly wash the fruit before cooking.
Note! Some vendors cover tangerines with a thin layer of wax for better preservation.Therefore, try to wash the fruit with a hard sponge or brush and soap. At the end of such a "bath procedure", rinse the tangerines well or pour them with boiling water.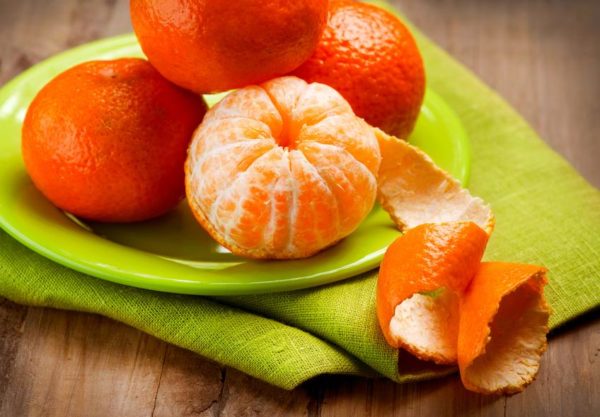 For jam, you can use not only the pulp, but also the rind of tangerines
It makes sense to learn to distinguish tangerines by their place of growth. Previously, we sold mostly Abkhaz and Georgian varieties. But now almost at any time of the year in the shops you can find fruits from Turkey, Spain, Israel.
The specific features of climate and soil in each region endow mandarins with certain properties:
Israeli and Spanish are very easy to clean;
Turkish mostly small size, light orange, almost pitted;
Abkhazian and Georgian have light pleasant sourness and favorite since childhood taste and aroma.In addition, a minimum of chemicals is used to process these fruits.
For making jam, you can use everything except the seed, which, however, should not be thrown out. From them you can grow some beautiful tangerine trees in your apartment.
Ingredient selection
First of all, it is, of course, tangerines. Responsibly approach their choice.Fruits should be smooth, smooth, preferably the same size.Wrinkled, rotten fruit should not be used at all.
Many housewives, who know a lot about tangerine jam, insist that it is better to take small, slightly unripe fruits that retain their shape during cooking. Large, over-ripe fruits will not require a large amount of sugar, but are only suitable for jam or jam, in which the shape of mandarins or cloves is not important.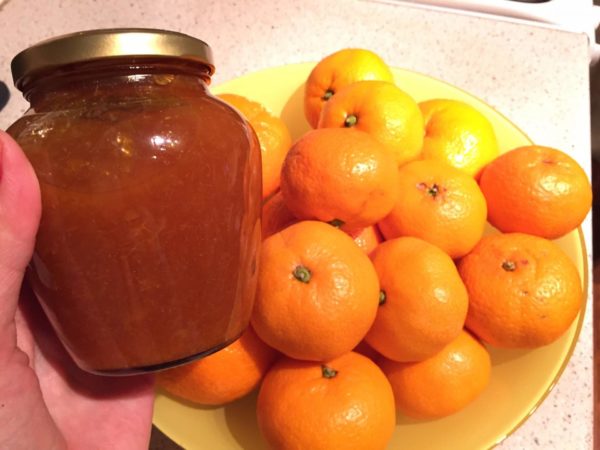 Do not doubt, from any tangerines you can make great jam
In addition to tangerines, you will need water and sugar - the main components of any jam.The standard proportions are as follows: for 1 kg of mandarins, 0.5 liters of water and 1 kg of sugar.But in some recipes, we deviate from these indicators in order to achieve a special taste and texture.
Well and how without additional ingredients? No dessert is complete without spices. You can add cinnamon, vanilla, star anise, fragrant herbs to jam, and also combine tangerines with other fruits and even vegetables, such as pumpkin. Believe, it will turn out very tasty!
Step-by-step cooking recipes
We offer you several options for making tangerine jam.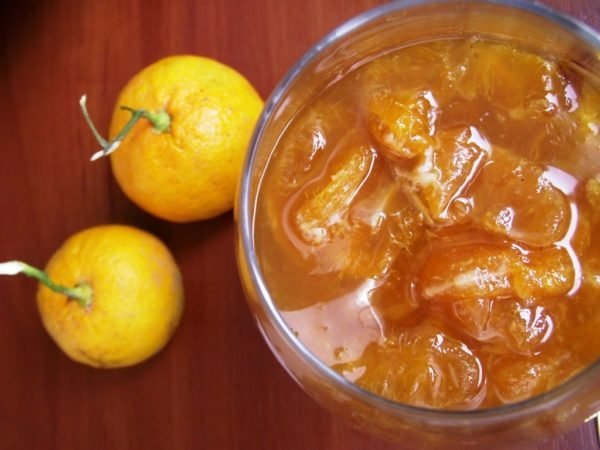 Tangerine jam will be a real decoration of the dessert table
Mandarin jam jam
You do know that citrus goes well with spices? We suggest you make a dessert of tangerine cloves, adding cinnamon, star anise, vanilla and even a little cognac to it. Sweetness, astringency and delicate aroma - this is what will fill your evening when you open a jar of such jam!
You will need:
tangerines - 1 kg;
sugar - 500 g;
cinnamon - 1 stick;
vanilla sugar - 2 tsp. (or 1 vanilla stick);
Badian - 2 stars;
Cognac - 50 ml.

Cinnamon and other spices will be an excellent addition to the tangerines
Peel the tangerines, remove the white film, remove the bones. Cut the slices in half.

Peel tangerines from skins and bones

Put the tangerine slices in a pan, add sugar. Put on medium heat.

Pour sugar into slices and set it on fire.

As soon as the tangerines make juice, immediately pour brandy and add seasonings. Constantly stirring, reduce the heat to low and cook for 15 minutes.
Then it all depends on what consistency of jam you prefer. If you like lightness, then after 15 minutes finish the cooking, cool the jam and serve on a table or put it in a jar and put it in the refrigerator.

Cook tangerine slices to the consistency you need.

And if you like thick jam, even in something similar to jam, you will have to work a little. Remove the pan from the plate, allow to cool for 2-3 hours, then put it on medium heat again, after boiling, cook for 5-7 minutes. Repeat the procedure 3 times.A small note: in this case, it is better to add brandy and spices during the last cooking.


You can determine readiness by typing quite a bit of jam in a teaspoon and dripping it on a cold saucer. If the dessert is ready, then the drop remains round, dense and does not spread.


Jam is ready if the drop does not spread over the saucer
From whole fruits
For this jam, choose smaller tangerines. If you have at hand only large fruits, they will have to be cut in half across the segments.Check that each fruit is elastic, without any signs of deterioration and dents on the peel.
So, you will need:
tangerines - 1 kg;
water - 1 cup;
sugar - 1 kg;
carnation buds - by the number of mandarins;
juice of one lemon.
Wash the tangerines and remove the stalk.
Fold the fruits in a deep bowl and pour water on top.Leave for a few hours, and better all night: it is necessary for bitterness to leave the peel.

Fill the tangerines with water and leave overnight to bring out the bitterness

Each mandarin punctured with a toothpick in 2-3 places. Insert a carnation into one of the punctures.

Pierce tangerines with a toothpick in several places

Put the tangerines in another container, pour a little water, boil for 5 minutes after boiling. When the fruits are soft, remove them from the water, cool.
Now go to the syrup. Combine water and sugar in a bowl, mix well.

Prepare the syrup by combining and mixing the sugar with water.

Put on the stove, turning on a small fire. While stirring continuously, bring to a boil and boil the syrup for 2 minutes.

Boil the syrup and boil for 2 minutes.

While the syrup has not cooled down, put fruit in it. Leave for a few hours. During this time, mix tangerines 3 times.

Mandarins should be soaked with syrup so that the skin becomes soft and translucent

Boil tangerine jam to 5 visits, each time bringing to a boil and completely cooling. At the last stage add lemon juice.
Without peel
Whole mandarin jam can be made without the rind. In this case, it is better to take slightly unripe fruits - they should be denser than in the previous recipe in order not to boil soft. The remaining dessert products are in the same quantity.
Peel the tangerines from the peel.
Make a syrup, put tangerines in it, leave for a few hours.
After that, put on a slow fire.
Bring to the boil twice, boiling for 5 minutes each time.
The second time, add lemon juice.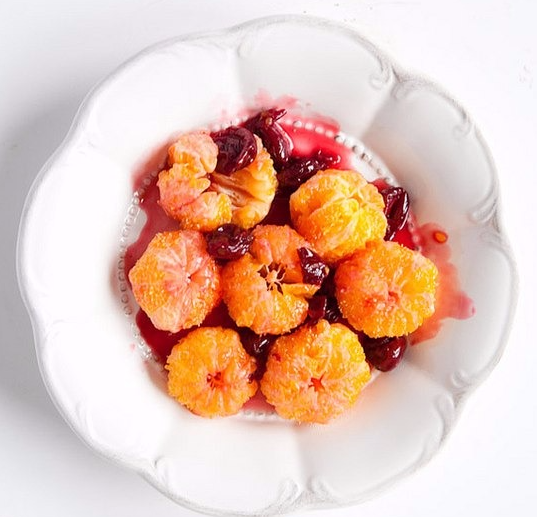 Whole tangerines without peel are also great for jam
And throw away the skin from tangerines is not necessary, it is useful to us for the next recipe.
Whole Fruit Jam - Video
Tangerine peels
If all the tangerines were safely eaten by family and guests and you did not hide a few pieces for jam, do not worry. Surely the rind to throw out have not had time. Crusts are perfect for making jam.
Do not throw away the crusts of mandarins - they will make great jam
First of all, do not forget that the skin should be clean.In addition, all citrus peels are naturally bitter, so they need to be soaked in cold water.. It will take at least 10 hours. It is necessary to change the water three times.
There is another way to remove the bitter taste: put sliced ​​crusts in cold water for 10 minutes, then drain the liquid through a colander, add 1 liter of fresh water, 1.5 tsp. salt and simmer for an hour. After that, let the peel cool.
Mandarin crusts need to be soaked in water to bitterness
Now you can proceed directly to the preparation of jam. You will need:
tangerine peels - 350 g;
sugar - 450 g;
water - 1 l;
citric acid - 0.5 tsp;
tangerine juice - 50 g.
Cut the crusts into small pieces.

Cut the crusts into smaller pieces to better boil them in the syrup.

Boil 1 liter of water, add sugar and let it melt completely, stirring constantly. When the syrup boils, add the peel.

Prepare syrup from water and sugar

When the syrup and crusts boil again, reduce the heat. Boil for 2 hours, stirring constantly. Jam gradually thickens, the skins will become transparent. Turn off the stove and allow the mass to cool.

Cook the peel in the syrup for 2 hours on a quiet fire, stirring constantly

After the jam has cooled completely (you can leave it overnight), heat it over low heat. Add 50 g of juice, squeezing it out of fresh mandarin, mix and simmer for 15 minutes.
Pour in citric acid, stir and simmer for another 10 minutes over low heat.


Do not forget to constantly stir the jam so that it does not burn, because at this stage too little moisture will remain in it.

Add citric acid and cook a little more, stirring constantly.

Jam is ready! Roll it up in jars while it is hot, or let it cool and serve with tea.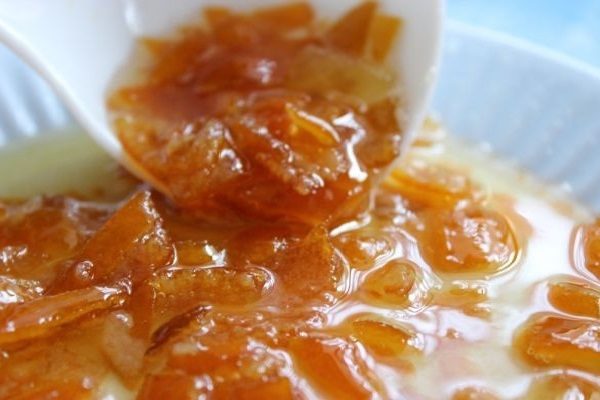 Ready jam can be laid out in jars
By the way, you can give tangerine crusts to jam a very original look of curls.
Slice out long strips up to 1 cm wide from the skins.

Twist the sliced ​​crusts into rolls and thread on a string to get curls

Fold each strip into a tight roll and thread on a string on the basis of beads.


Pull the thread as tightly as possible so that the rolls do not unfold.

Soak the crusts in water, and then cook in syrup. Remove the threads when the jam is cool.


Jam with curls is sure to please your guests
In the multicooker
So where do without our faithful assistant - multicookers? Give her all the cooking concerns.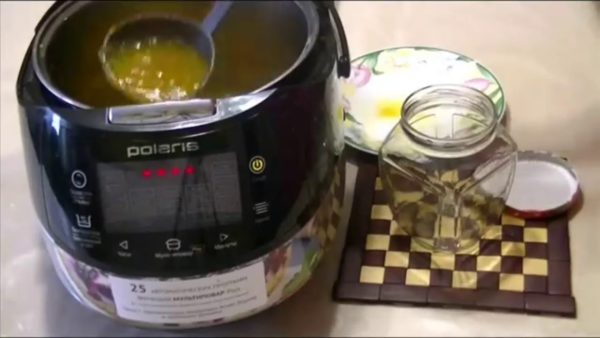 Multivarka will prepare tangerine jam quickly and without hassle
From you will be required:
tangerines - 1 kg;
water - 5 glasses;
sugar - 3.5 cups;
lemon - 1 pc .;
vanilla - to taste.
Wash the fruit in hot running water.
Cut the tangerines and lemon into thin slices.
Put in a deep bowl, cover with water and leave for a day at room temperature.
Put the citrus slices into the bowl of the multicooker, add sugar, add the vanilla.
Fill with fresh water.
Close the lid and cook for 20 minutes in the "Jam" or "Quenching" mode.
Allow the jam to cool without opening the lid (so it is well infused and thoroughly saturated with syrup).
How to make jam or jam in a slow cooker - video
In bread maker
Modern bread machine not only bake bread, as you might think by name.Be sure to see if your model has a "Jam" or "Jam" mode.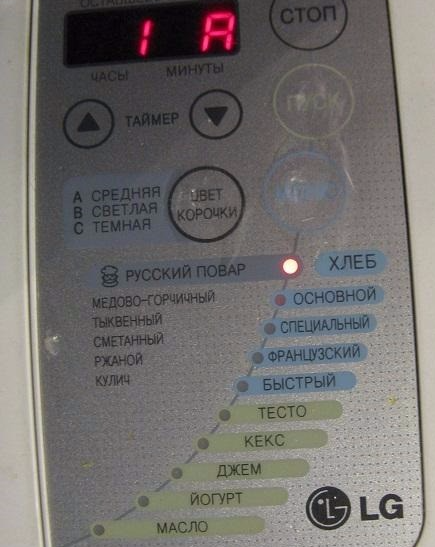 In order for your bread maker to make jam for you, it must have a "Jam" or "Jam" mode.
In addition, you will need a blender.
This recipe is good if you do not have the best mandarins: beaten, dented or slightly rotten from the sides.
You will need:
sugar - 120 g;
peeled mandarins - 500 g;
a pinch of citric acid.
If you prefer, you can add 30 g of brandy, a little ginger, cinnamon or other spices to taste.Water in this recipe is not needed: in tangerines own enough juice for such a jam.
Fetch the fruits, peel them and remove the seeds. Too spoiled areas cut.
Grind tangerines with a blender into a mass similar to a thick juice with pulp.

Thoroughly peel tangerines and white fibers.

Pour the mass into the bucket of the bread machine, add sugar there and mix. Add citric acid and, if desired, brandy and spices.


Make a smoothie of tangerines, pour it into the bread maker bucket and add additional ingredients.

Place the container in the device, close the lid. On the control panel, select the "Jam" or "Jam" mode. Then you can do your own business, and the bakery will take care of the jam: she will stir the weight herself so that she does not burn, and notify you with a signal that the process has ended.
When the signal sounds, wait another 10 minutes for the lid of the bread machine and the bucket to cool down a little. Put the tangerine jam in another dish and roll up for the winter or serve.


Breadmaker perfectly cope with the preparation of fragrant amber tangerine jam
With the addition of oranges
Mandarins can be combined with other citrus fruits, for example, with oranges.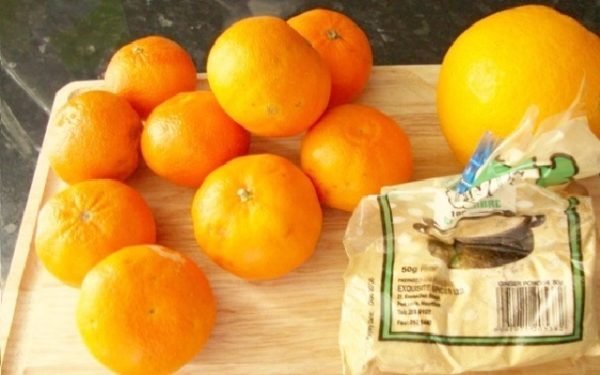 The combination of mandarins with oranges gives the jam a unique taste
For this jam, you need the following ingredients:
oranges - 1 kg;
tangerines - 500 g;
sugar - 1.5 kg;
water - 100 ml.
With oranges, remove the zest with a small grater. After that, peel all fruits from the peel, film and seeds, dividing the fruits into slices and pieces.At the same time try all the juice flowing in the cleaning of oranges and tangerines, collect in a separate glass.
In a deep bowl, pour in the juice, water, sprinkle sugar. Put on a small fire and cook, stirring, until the latter is completely dissolved. After that, add tangerines and oranges, simmer on the stove for an hour.
Add the orange peel and cook for another 10 minutes.
Allow the mixture to cool and place in jars.
With apples
Ingredients:
apples - 1 kg;
tangerines - 1 kg;
sugar - 1 kg;
water - 2 cups.

Prepare tangerines, apples, water and sugar for jam
Wash the mandarins, peel, film, divide into slices and remove the bones.

Clear the tangerines and disassemble them into slices

Peel the tangerines grate.
Wash the apples, remove the rind and the core, also rub on a grater.

Apples clean and grate

Put grated apples into the pan, pour in water. Put on a small fire and cook until they are soft enough so that they can be easily mashed into mashed potatoes.

Boil the apples until they are very soft.

Grind them with a blender or wipe through a sieve.

Crush apples with a blender or sieve

While the mash is not cold, put in the pulp of tangerines, grated citrus peel and sugar. Mix thoroughly.

Add other ingredients to apple sauce.

Put the pan with the mass on a slow fire, cook for 20 minutes, stirring constantly to avoid burning. When the jam is ready, spread it in sterilized dry jars and roll up the lids.

Roll up jam in jars or serve
With pumpkin, lemon peel and ginger
This jam has exclusively lemon-mandarin flavor. The pumpkin here is a useful "snag", so to speak, for quantity.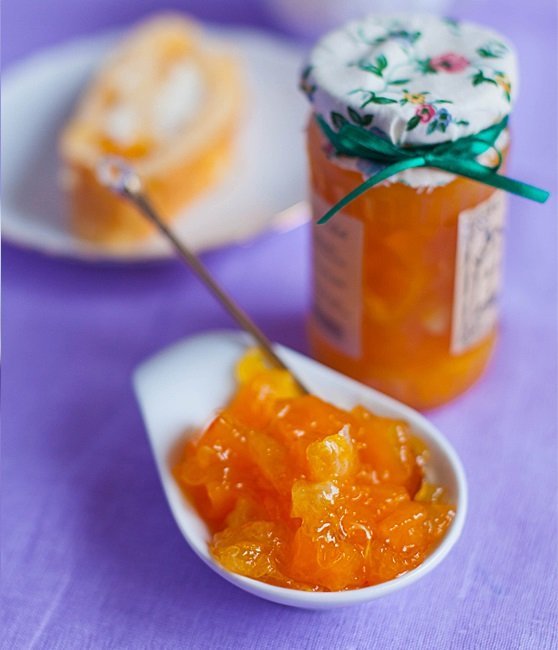 Add lemon and spices to the tangerine pumpkin jam to get a refined taste and aroma
Ingredients:
pulp pulp - 1 kg;
Lemons - 4 pcs .;
mandarins -0.5 kg;
sugar - 1 kg;
cardamom seeds - 1 pinch;
the root of ginger - 1 piece (4 cm).
It is better to take thick-blonde lemons, so that the jam does not turn out too sour.If at your fingertips only fruits with a thin skin, reduce the number to 2 pieces.
Cut pumpkin pulp into small cubes.


Try to choose a pumpkin with green sandpaper. Such fruits have a delicate aroma: when cut, they smell like melon.

Finely chop melon pulp

Remove the zest from one lemon with a small grater. Crush the ginger.

Slice ginger, rub zest

Combine the zest, pumpkin and ginger in a deep bowl, add sugar, stir. Cover and let stand for 12 hours.

Mix pumpkin, zest, ginger and sugar

In the meantime, get busy with mandarins. Put them in a saucepan, cover with water and cook for an hour. After that, remove the fruit and let it cool.A liquid is not necessary to pour out, it is still useful.

Cook the tangerines

In a separate bowl squeeze the juice of lemons.

Squeeze lemon juice

Cut the lemons as small as possible.

Finely chop the lemons

Place the sliced ​​lemons in the water left over from the cooking of the tangerines. Put on the fire, bring to a boil, cover and cook for half an hour.Then remove the lid and leave to simmer for another 15 minutes.

Boil the sliced ​​lemons in the water, which boiled tangerines

Strain the liquid so that no lemon pieces are left in it.

Strain boiled lemons

Meanwhile, the tangerines cool. Cut them into small pieces.

Cut boiled tangerines into small pieces.

Water in which lemons and tangerines cooked, pour in a deep pan, put slices of tangerines and pumpkin. Put on the fire and bring to a boil. Add cardamom, pound for half an hour on low heat, then add 750 g of sugar.
Boil until cooked.
From tangerines and persimmons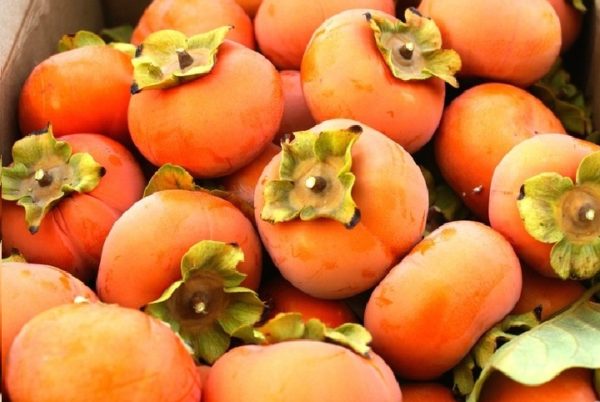 Persimmon will add honey flavor to tangerine jam
You will need the following products:
Wash tangerines and beat them with boiling water (not cleaning).
Fill with cold water and leave overnight to leave bitterness. In the morning, fold the fruit into a blender and chop them.

Grind in a blender tangerines

Wash the persimmon, cut along. Remove the bone, remove the pulp with a spoon.

Peel the persimmon and remove the pulp.

Mix persimmon pulp and chopped tangerines, add sugar. Put on low heat and boil for 30 minutes after boiling.
Cool and then boil for half an hour.

Mix persimmon pulp and tangerines, cook until cooked.

Arrange the jam in sterilized, well-dried jars.
You can always "preserve" the festive mood in the form of fragrant tangerine jam, in order to open the jar at any time and again plunge into the atmosphere of the New Year. Among the recipes presented by you, you will surely find one that you especially like. Please share with us your comments on how to make mandarin jam.
Related news
Festive mood for the whole year: cooking tangerine jam image, picture