Denim dress: with what to wear. Recommendations stylists and interesting combinations
The question of fashion is always relevant for women, and therefore, acquiring this or that thing, they always learn how versatile it is and in what cases it will emphasize the individuality of their figure.
Denim dress is one of the classic models, which every season only change the style, remaining one of the most comfortable clothes in the wardrobe.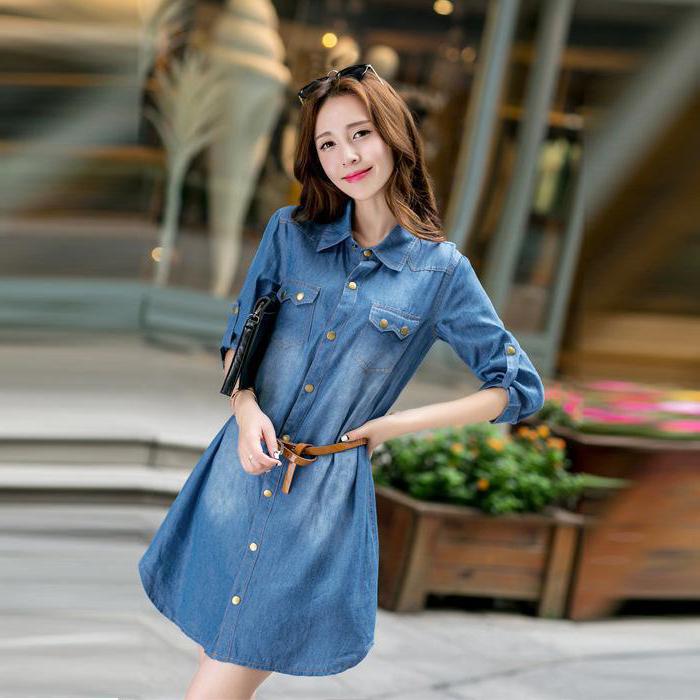 What can I wear with a denim dress?
First, it depends on its cut, secondly, on the season, and third, on the fashion trends of the season.
Here are possible options for stylish looks, based on a classic-cut denim dress (with sleeves, slightly fitted, medium length):
the addition of things, jewelry, shoes and bags in white or black is the classic version;
addition of the same items, but bright colors - catchy and extravagant version;
the use of metal jewelry (brooches, chains, bracelets, belts) and shoes, bags in pastel colors will give the bow modesty, but will look very stylish;
for lovers of freedom, a leather jacket (ideally, "jacket)" would be a suitable addition - this is another answer to the question of what to wear with a denim dress.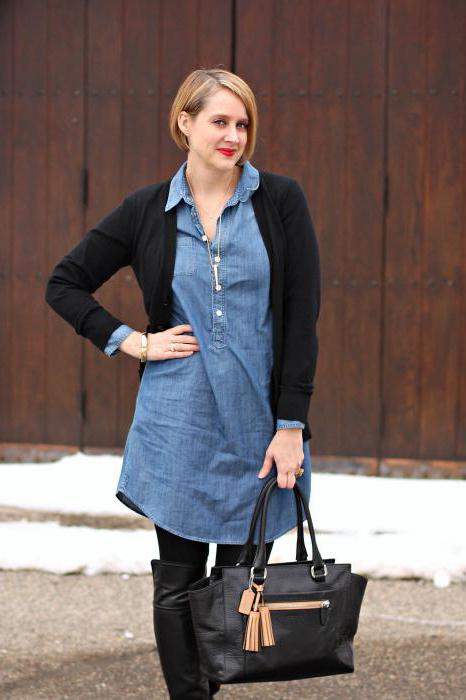 Dress summer denim without sleeves
This is the basis of the summer wardrobe of beauties. These dresses are sewn from light denim, they are most often light shades of blue. There are many models, but the main ones are sundresses, mini dresses and simply dresses without sleeves.
What can I wear with a denim dress without sleeves? It depends on the length of the product and the weather. If summer is hot, then such dresses complement only shoes and accessories (bracelets, belts), a small clutch or a summer beach bag.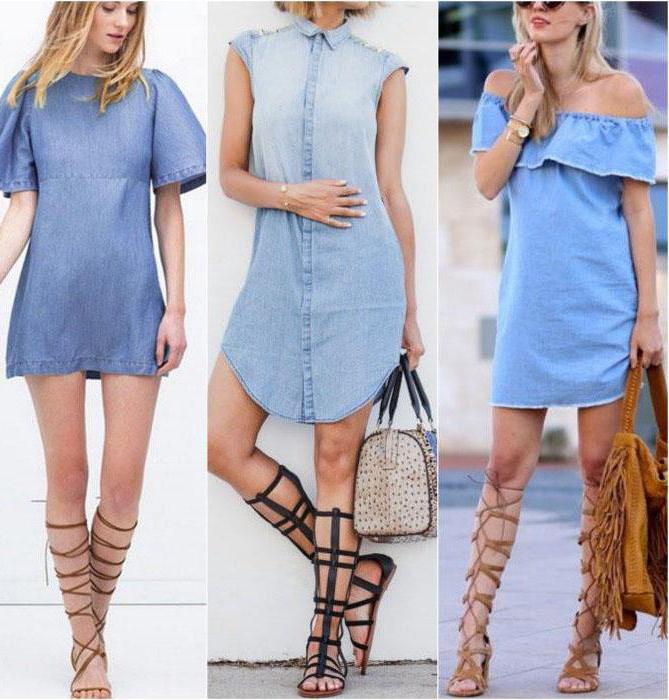 At the same time, a nice bonus is that you can choose absolutely different jewelry: from modest and delicate items to massive and large earrings, bracelets or chains.
It is worth noting that the blue / blue denim is perfectly combined with a "strip" pattern, white lace or embroidery, shoes with high wedge heels or light, light moccasins.
If it is cool outside, then it would be appropriate to add a denim dress with jackets, cardigans, warm sweatshirts, short jackets (preferably leather), knitted sweaters, voluminous sweaters. And at the same time you need to find the right shoes: ankle boots, shoes, summer boots, slip-ons.
Denim Dress Tunic
This model is perfect for both ladies with a perfect figure, and girls who have excess weight. What can you wear with a denim tunic dress to stay desired and beautiful? If the period of wearing is summer, then lush ladies can complement the dress with a strap or thin belt at the waist, put on dark-colored tights (black, dark blue), high-heeled or wedge shoes (for girls of low or medium height) - this will visually lengthen the legs and make the waist thinner, thereby diverting attention from excessive fullness in the hips.
For owners of a good figure - a denim dress-tunic will be relevant without leggings, revealing bare legs in the warm season.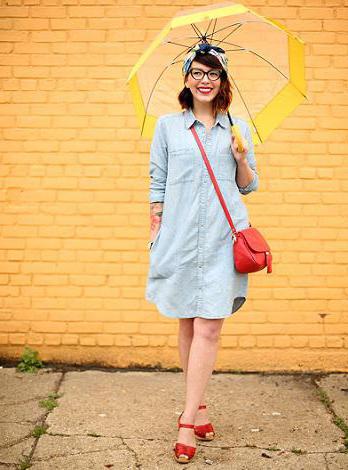 Denim tunic is a versatile dress that can be worn with both bare legs and pants. During the cold over a dress put on a coat, jacket, jacket.Combining it with other clothes creates a multi-layered effect. Very stylish looks denim dress-tunic with a jacket or denim vest, jeans or denim leggings.
Denim shirt dress
What to wear with such a model? In general, there are two main options for a combination of dress-shirt denim:
classic rigorous image;
free style, or casual.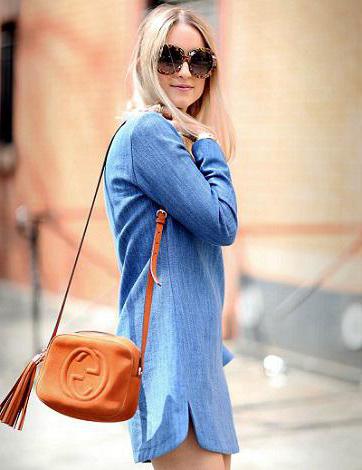 In the first version, the dress should be combined with a black jacket or an elongated vest in a classic style and shoes with black pumps or high platform shoes.
In the second case, a denim shirt dress forms the basis of a wardrobe, which is complemented by any comfortable footwear: sneakers, moccasins, low-heeled shoes, sneakers, sandals, sandals. The use of beach, knitted, woven handbags, small clutch bags, small shoulder bags, backpacks, hats, caps and bandanas will create an image of an easy and carefree girl.
Shoes under the denim dress
What shoes to wear denim dress? As mentioned above, shoes are chosen in accordance with the chosen image and model of a denim dress: if it is a strict style, then, depending on the weather, choose: pumps, stiletto shoes, oxfords, sandals with closed toe, ankle boots, boots, boots .If you choose a casual style, then any sandals, extravagant shoes, moccasins, slip-ons, sneakers, boots, stockings boots will be appropriate.
It is advisable to choose shoes in such a way that it is combined either with decorations, or the texture of the material coincides with the bag. It will give harmony to the image.
Accessories and decorations
Under the accessories and jewelry refers to such additions as bags, belts, belts, hats, jewelry (chains, beads, necklaces, necklaces, bracelets, rings, earrings), scarves, glasses. This is all that you can wear a denim dress.
What bags in denim priority?
Metallic bags (any size).
Brown bags (preferably suede).
Bags, clutches with leopard print or print "snake skin".
Products of scarlet color.
Tote bags.
Gray or nude color bags.
Black bags look familiar, but do not cease to be a classic.
A bright element, which will bring a highlight to the image, will be a bright scarf, a scarf, large earrings and a bracelet of bright rich colors (scarlet, lemon, emerald, lilac, pink and others). If a girl does not like flashy colors and jewelry, you can wear modest bracelets, chains and earrings.In this case, you can win due to the multi-layered jewelry: a lot of these bracelets or a few thin chains.
The only recommendation is not to wear jewels to the denim dress, since they will be inappropriate and would rather present their hostess as a tasteless person.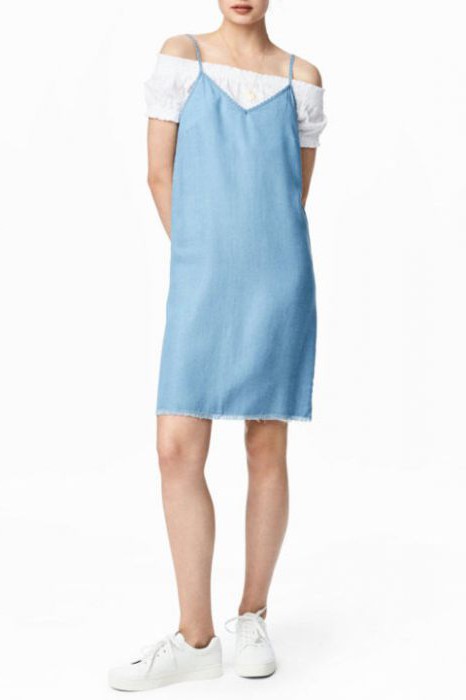 Colors of jeans
Today, designers are actively urging to diversify their wardrobe with bright colors and prints. Denim clothing is no exception. She fell in love with people mainly because of its technical properties, and after that, a universal color.
The color scale of jeans clothing is all shades of blue: from light blue to dark blue. But for lovers of extravagant things, models of all colors are presented on the fashion market: black, white, pink, purple, brown, yellow, burgundy, mustard, marsh and others. This greatly increases the possible options, demonstrating how to wear a denim dress.
When choosing such a dress, it is imperative to consider and pre-think the finished image: the color of the dress, accessories, shoes. These details must be combined with each other and generally complement the external data of their owner.
What can I wear with a denim dress in summer and winter? There are a lot of options, and all of them are interesting. It is possible to wear it as a separate item or as an addition to a bow. It is important to use the tips and recommendations given in the article, and then the image will be selected perfectly.
Related news
Denim dress: with what to wear. Recommendations stylists and interesting combinations image, picture, imagery