Chocolate cupcakes: recipes and cooking features
Chocolate cupcakes are small cakes baked in muffins or muffins. To decorate this delicacy, you can use any icing, various creams, whipped cream and so on. How to make chocolate cupcakes? The recipes for this dessert are very diverse. You can choose to your taste.
Classic chocolate cupcakes
To prepare 16 servings of this dessert, you will need:
flour - 1 and 1/3 glass;
baking soda - ¼ teaspoon;
baking powder - 2 teaspoons;
cocoa - ¾ cup;
salt - 1/8 tsp;
butter softened cream - 3 tablespoons;
sugar - 1 ½ cup;
eggs - 2 pieces;
vanilla sugar or vanilla extract - ¾ tsp;
Milk - 1 cup.
How to cook dough
To make chocolate cupcakes, sift flour mixed with salt, soda and cocoa into a deep bowl. In a separate bowl it is necessary to put the softened butter on the basis of cream and sugar. Components need to be well whipped to get an airy and light mass.In the mixture you need to enter the eggs one by one. In this case it is necessary to observe the rule After each egg, the mass should be whipped. In conclusion, in the resulting mixture, you must enter the vanilla.
In a creamy substance is worth in small portions alternately add milk and flour. In conclusion, the mass must be whipped again.

How to bake
Bake chocolate cupcakes in an oven heated to 180 ° C. Shape for cupcakes should be covered with parchment or it is good to lubricate butter on a creamy basis and lightly sprinkle with flour. After that, you need to fill them with dough. The mass must fill no more than ¾ of the total volume of the form.
The process of baking dessert takes no more than 17 minutes. Check the readiness of dessert can be a toothpick. It is enough to pierce the cupcake in the center. If it is baked, the toothpick will be dry. When the pastry has cooled, you can decorate it with your favorite cream or whipped cream. Top it all worth sprinkle with coconut chips or multi-colored sprinkle. To make the cakes look more original, you can use fresh berries or pieces of fruit.
Cupcakes with liquid filling
How to make chocolate cupcakes with filling? The recipe for such a delicacy is quite simple.To get started is to prepare products:
Choice of chocolate
To get the perfect chocolate cupcakes with chocolate cream inside, you should use only dark chocolate. The content of cocoa in it should be from 70 to 80%. Then get a liquid filling. It is worth considering that the cupcakes with such a component are slightly bitter. However, such products are ideally combined with ice cream. If you prefer sweet pastries, it is better to use dark chocolate, which contains from 50 to 60% cocoa.
Do not use milk chocolate for making cupcakes. With such a component, pastries turn out to be too sweet and rise very poorly. It is also not recommended to use chocolate bars for making cupcakes, but only a real product.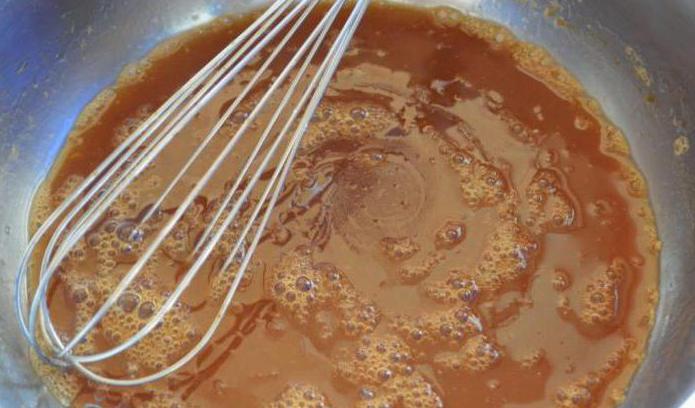 Combine butter and chocolate
To make cupcakes with chocolate filling, it is necessary to slice the butter from the cream. Chocolate should be carefully broken. Components should be put in a deep container. All this should be placed in a water bath. The butter and chocolate must be melted and mixed so that a homogeneous mass is obtained.If the mixture came out too hot, then it should be cooled.
Melt food can be in the microwave. However, with this method it is necessary to ensure that the chocolate is not curled. To do this, the mixture must be gently heated and stirred every 10 seconds. You should not immediately set a long time on the timer. This will only spoil the products. Also, do not melt butter and chocolate directly on the stove.
Knead the dough
Everyone loves cupcakes with chocolate cream. Even beginner chefs-confectioners can master the recipes of this delicacy. When the chocolate mass is ready, it should be cooled. During this time, you can prepare eggs and sugar. These components should be combined, and then whipped so as to obtain a thick white foam. In a container with an egg mass, gently introduce the cooled chocolate. Products need to be mixed to obtain a homogeneous mass. The main thing is that chocolate is not hot. Otherwise, the egg will fold.
In the resulting composition, you must enter the flour, mixed with salt and pre-sifted. Mix dough well. However, do not knead it for a long time. Otherwise, the flour will begin to produce gluten, which will make the dough very dense,and the cupcakes just won't rise.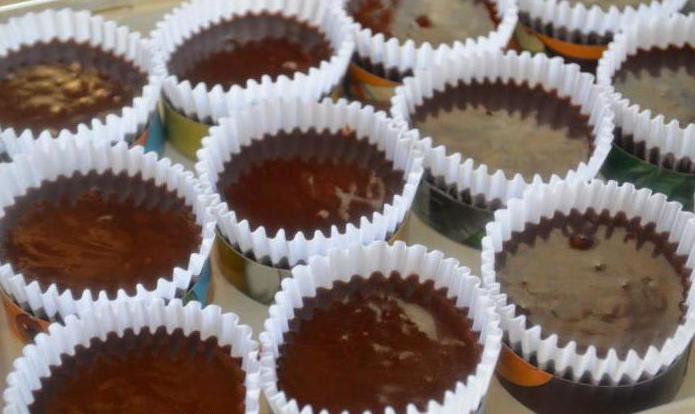 How to bake
Cupcake molds should be carefully oiled, and then filled with dough. From the specified number of components, 9 cupcakes are obtained. Do not fill the molds to the top. It is necessary to leave a little space, as such baking in the cooking process will still rise.
The molds should be placed in the oven, preheated to a temperature of 200 ° C. The baking process takes no more than 10 minutes. Determine the readiness of cupcakes can be in appearance. They rise and begin to crack slightly. Chocolate cupcakes with liquid chocolate filling inside it is better to serve hot with a portion of ice cream.
Chocolate Cream Treats
To make delicious cupcakes with chocolate cream, you will need:
natural cocoa - 60 grams;
boiling water - 100 milliliters;
flour - 250 grams;
soda and salt - 0.5 teaspoon;
baking powder - 0.5 teaspoon;
butter based cream - 150 grams;
sugar - 200 grams;
eggs - 2 pieces;
vanilla sugar - 1 large spoon;
sour cream - 120 grams.
To prepare the cream requires:
powdered sugar - 180 grams;
natural cocoa, without additives - 2 large spoons;
butter based cream - 80 grams;
cream cheese - 80 grams.
chocolate with 50% cocoa - 140 grams.
How to cook
Cocoa need to pour boiling water, and then mix until smooth. Sugar and butter should be placed in a deep container and put on fire. Components must be boiled until the butter is completely melted. In this case, the mixture should be constantly stirred.
When the butter and chocolate are cool, you need to beat them with a mixer until the temperature of the mixture reaches room temperature. It takes about 5 minutes. In the resulting substance is to enter the eggs one by one. In the mixture, add sugar and cocoa, and then beat until smooth.
Flour should be mixed with baking powder, soda and salt, and then sift. In the dry components in small portions should enter the liquid component of the dough, alternating it with sour cream.
Experienced Culinary Tips
Chocolate cupcakes, the recipes of which are mostly similar, should be baked in cake molds, pre-greased with butter. It is worth filling them only on ¾ of all volume. You need to bake cupcakes in the oven at 180 ° C. Cooking time takes from twenty-five to thirty minutes. Readiness can be checked with a match or a toothpick.Baking should be removed and left to cool.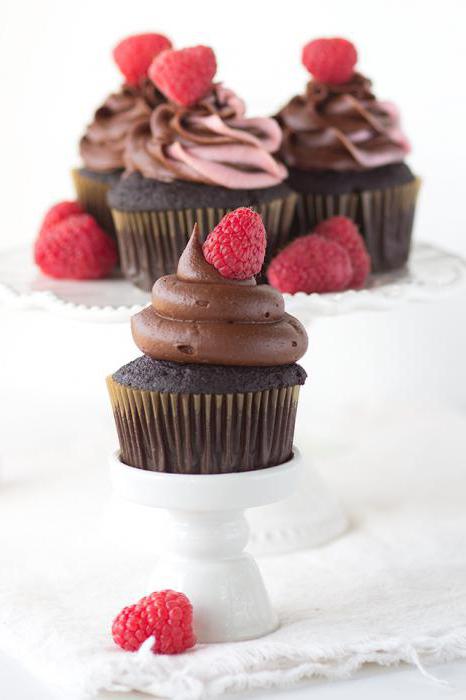 Cooking and decorating
While the cupcakes are cooling, you can make a cream. For this chocolate should be melted in a water bath. You can do this in the microwave. But it should be ensured that the product does not curl.
Sugar powder needs to be mixed with cocoa. Cream cheese and softened butter should be whipped until smooth. To the mixture is to add chocolate, cocoa with powdered sugar. Products should be whipped again.
Ready cream should be shifted to the pastry bag with a nozzle. After that, you can begin to decorate the cupcakes. When the pattern is laid out, you can sprinkle the cakes with multicolored dressing or coconut chips.
If desired, you can do it differently. In the cooled cupcakes should remove the core. Chocolate filling for cupcakes is poured into the hole. After that you can decorate everything. Top baking is completely covered with a layer of cream. It is best to do this with the nozzle. On top you can put fresh strawberries or cherries. This will make the cupcakes more original and tasty.
Related news
Chocolate cupcakes: recipes and cooking features image, picture, imagery